Buy Me A Camel!
Topic: In the News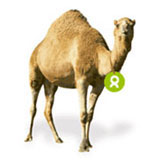 No, I'm not joking. You can really buy me a
camel
for just #95! Oxfam Great Britain has just launched their summer, '
Unwrapped Gift Catalogue
', with a range of gifts which will be available until the end of September. Of course, I wouldn't actually get the camel, just a card! No, these are gifts in support of Oxfam's humanitarian work and they will benefit a community in one of over 70 countries, thereby helping Oxfam to tackle worldwide poverty and suffering. What a brilliant idea for that awkward person who seems to have everything - now you can give them a marvellous present and benefit a charity at the same time. If you are that 'awkward person', then get a gift catalogue from Oxfam for your friends and family to browse through.
The gift choices range from camels, cows and goats to a whole farmyard of livestock for #1,200. If you don't want to buy an animal, you can purchase school dinners for 100 children for just #6, fill a satchel with school equipment for just #16, buy medicines for a whole village for #100 or provide safe water for 1000 people for #720.
If you are getting married, Oxfam now offer an Unwrapped 'Wedding List' Service as well. Personalised wedding lists can easily be created after you have registered
here
. If you already own that microwave oven, coffee maker, food mixer, or whatever and you are stuck for wedding gift ideas - why not give this a try?
In the meantime, if you are feeling generous, I would really, really, like a camel!
N.B. My grateful thanks to Oxfam GB (tel: 0870 333 2700) for permission to use their small camel picture
Updated 16 May 2005 17:17 BST
---