Father's Day
Topic: Family Days Out
My, it was hot yesterday and it's not much better today - can't cool down! We had a lovely day yesterday as all the family met at the
Open Air Museum
at Singleton, not far from Chichester. Three proud Dads all celebrating Father's Day with the children and grandchildren. Thank goodness for a couple of big shady trees to sit under and enjoy the lovely picnic lunch my daughter brought.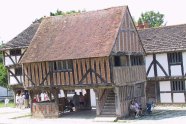 The Museum is a collection of very old historic buildings which were rescued from demolition, carefully moved from their original sites and reconstructed in the West Sussex countryside for posterity to enjoy. One thing I noticed is how cool all these medieval buildings are inside - wish our house was as cool on a hot summer's day! Yesterday was a 'Father's Day' theme and there were all sorts of craft demonstrations to try your hand at. It was too hot to have a go at the
Pit Sawing
but my son-in-law, Adrian, tried his hand at
Pole Lathe Turning
. He got the foot treadle movement just right and was told that he was a natural "
Bodger
"!
I felt sorry for the Blacksmith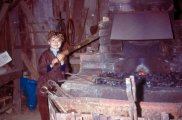 demonstrating his trade in the Smithy. Warm work at the best of times let alone on such a hot day. To make matters worse, the Blacksmith was wearing a thick leather apron and what looked like flying boots to protect him from the sparks! I reminded my son about a previous visit many years ago when he was about 7-years-old. David had been completely fascinated by the Blacksmith then and I couldn't get him away from the Forge - he spent over an hour working the bellows. The Blacksmith was making a replica axe head, heating it in the fire and beating it with a hammer. When he finished it, he presented it to David as a reward for all his hard work. That wouldn't happen today as there is a cordon preventing the public from getting too close.
My daughter had a whale

of a time trying her hand at driving a tractor whilst all the grandchildren had rides on a buggy pulled by a couple of giant cart-horses and on a tractor trailer with hay bale seats which took them round the field. We sat under the trees sipping water and watching. We weren't able to visit all the buildings as the site is very large and it was too hot to gallop round. But, I just had to have another look inside my favourite building, the Bayleaf Farmhouse. This is quite a large timber framed hall house, originally from Kent, dating from the late 15th or early 16th century. The feature I like best is the 'toilet' in the upstairs bedroom which consists of a projection overhanging the back garden with a seat with a round hole over a disposal pit. Bit drafty but it was the height of luxury in the early 16th century!
We ended our day at the Royal Oak public house near Midhurst. We had marvellous food but the helpings were
really huge
, no room for a pudding or even an ice cream!
---