Many Happy Returns
Topic: Family Days Out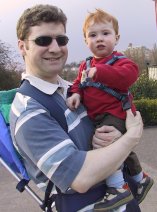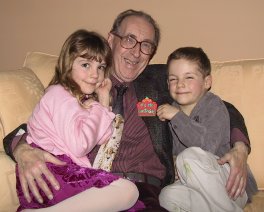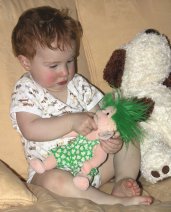 We have had a lovely Easter weekend! It was my husband's birthday on Easter Saturday and we were all invited up to my son's for the day to celebrate. The morning was sunny and warm and we had a very good drive up to London. Andrew was asleep when we arrived but soon woke up from his nap. He is growing fast and really tucks into and enjoys his food! I don't think his parents will have any faddy eating problems with him! We gave him a noisy farm animal book and some Lego Duplo for Easter plus a little outfit which was a little too big! No chocolate, of course. Andrew's mum, Shelley, thinks it can cause hyper-activity so she had prepared an 'egg case' full of fruit for Andrew for his Easter Sunday treat.
After lunch, we went down the road and up the hill to the
Horniman Museum
Park. It was a delightful little park with a small farm animal corner and beautiful flower borders. You can see how warm it was - my son in his tee-shirt.
Hubby was spoilt! Lots of presents, including a double DVD with four films on it (yes, four!) to play on his portable DVD player. And two very scrumptious looking special bars of chocolate from Stephanie and Elliot.
---