Amazing Animals: The Emperor Penguin
(No. 3 in my series)
Topic: Nature and Our World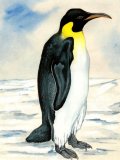 I've always been fascinated by that most marine of birds, the
penguins
, an ancient branch of the animal kingdom. Ancestral penguins were well established some 50 million years ago, which probably makes them one of the oldest of the class of Aves (birds). All penguins belong to the order Sphenisciformes, a term which refers to their narrow, flipper-like wings. The word comes from the Greek,
spheniskos
, meaning 'a small wedge'. Unlike other birds, penguins can't fold their 'wings' because their elbow joint is fixed. The flipper only moves at the shoulder joint - an adaptation which gives them more power when 'flying' through the water. They are also unique amongst birds because, apart from a brief appearance of wing quills early in the embryonic stage, they do not have any flight feathers on their wings. Their large, webbed feet and their tails are used as rudders enabling them to 'dart' about with amazing agility when chasing fish or shrimps. Their unusual beak structure, formed of several layers of horny plates, indicates a distant relationship to the albatross. However, without doubt, they are the champion swimmers and divers amongst all sea birds.
On land (or ice), penguins are rather comical creatures because they are handicapped by their extremely short legs, which are set far back on their chunky streamlined bodies. They are forced to stand upright and hop or waddle along. This make them appear 'human-like' and they have been compared to nuns dressed in a black and white habit or to men in evening dress! Actually, penguins can move very fast on icy ground by falling down and tobogganing along using their feet. It is said that they can go faster this way than a man on skis.
Scientists have recognised at least 32 species of extinct penguins, some of them quite large.
Anthropornis
of the South Orkneys and
Palaeudyptes
of New Zealand stood more than five feet tall. Today, there are about 17 species of penguin alive although some scientists classify the white-flippered variety of fairy penguin,
Eudyptula albosignata
, as an 18th variety. Of these, the most amazing species for me is the
Emperor Penguin
,
Aptenodytes forsteri
. It is the largest and tallest of the penguins with males reaching some 4 feet in height. Did you know that Emperor penguins are capable of swimming underwater at up to 37 miles per hour propelled by their strong flippers - a speed which rivals that of seals and porpoises? They can also dive up to 870 feet and remain submerged for up to 18 minutes.
For their first three or four years until they reach maturity, the Emperor penguins spend their time feeding in the krill-rich waters off the coast of Antarctica. Their preferred food is fish and squid. Emperor penguin's breed every year and their breeding cycle begins in March, autumn in the southern hemisphere. It is one of the few birds not to start its reproductive cycle in the spring but there is a good reason for this apparent madness, as we shall see. The adult penguins congregate on the ice returning unerringly to the same spot where they bred the previous year. Here they go through their courtship and in May, just as the sun is setting for the long antarctic winter, the female lays her single egg. This is immediately passed over to the male bird and the egg is held carefully on his feet tucked under a warm fold of abdominal skin. The females then disappear returning to the sea to feed leaving the males to incubate the precious egg, a process which takes 62 to 64 days.

During this period, the males huddle together for warmth and for protection from the howling winds (which can reach 100 mph in a storm). Emperor penguins are specially adapted to survive these harsh conditions as their body size and shape gives them a lower 'surface-to-volume' ratio and their flippers are much smaller proportionally than any other penguin. All penguins have developed a heat-exchange system of blood vessels in their flippers and legs so that returning venous blood is warmed up by the outgoing arterial blood. Emperors also have an exceptional heat-exchange system in their nasal passages, which recovers much of the heat added to the cold air they breathe in. They also have long, double-layered, high-density feathers, which cover their legs.
Crowding closely together saves heat loss and each penguin shuffles along slowly gradually moving from the cold outer edges of the group to the warmer centre. During this time, the average temperature is around minus 4 degrees Fahreinheit (-20 degrees centigrade) but can drop to minus 40 degrees (-40C) or more and, if Papa Penguin drops the egg onto the ice or exposes it for just a few seconds, the embryo will die. At last the egg hatches and the starving parent, who will have lost about a third of his weight, still manages to feed his chick for a couple of days from a residue in his crop - all the while keeping the tiny downy chick tucked under his 'pouch' to keep warm. Timing it perfectly, Mama Penguin returns at this point and takes over the chick's care so that the male penguin can return to the feeding grounds. His fast will have lasted some 110-115 days. It is a long journey to and fro over the ice which is where the penguins' tobogganing trick comes in very handy.
Having put back his lost weight, the male returns by the end of August and both parents then take turns to feed the chick for the next three months. Because of the distance the parents have to travel over the ice, this is usually one very large meal every three to four days. However, as conditions improve, the sea ice gradually melts away, so the previously long journey to the breeding ground becomes much shorter and quicker.
By late spring, the chicks have fledged but they are still only 60% of the adult's weight, the lowest of any penguin. In early December, the young Emperor Penguin is finally at the stage when he can fend for himself. This is the most favourable time of the antarctic year, when the shore ice is melting and the antarctic summer is just beginning giving this amazing bird the best start in a life which can be as long as twenty years.
---