The Coal Delivery
Topic: Memories
I woke up the other day with a childhood memory vivid in my mind. Why does that happen? Is it because one of my old brain cells fired a last message before it expired so that another brain cell could download the information and save it?
The memory I recalled was watching a man delivering sacks of coal. We had two entrances, the front door and the kitchen door. To get to the kitchen door, you had to walk past the front garden, down the side of the house (the length of our front room) and past the entrance to the coal cellar, where the deliveryman was unloading our coal.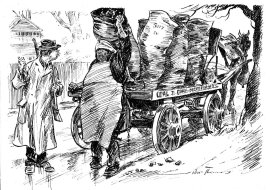 Before and probably during the war, the coal deliveryman would have used a horse and cart but I remember that this man arrived in a flat-bed lorry with the one hundredweight sacks of coal neatly stacked on top. So, I was probably seven or eight years old. I remember he had to climb onto the lorry and move the sacks to the edge ready for unloading. His face and hands were completely black from coal dust and he was wearing a sort of cap or head cloth, which hung down his back. He would grab hold of a sack by the 'ears' at the top, turn round, bend forward and pull it onto his back. He then had to walk quite a few yards to the coal cellar, down some steps and then 'pour' the coal out of the bag. The poor man must have had lungfuls of coal dust doing that! He was certainly at risk of getting chronic
Bronchitis or Emphysema
(especially if he smoked as well) or
Black Lung Disease
, a form of chronic lung disease affecting coal miners.
It was probably late autumn - that was the time when my Dad would have been thinking about stocking up on coal for the winter. However, the man was very hot; I could see the effort he made to pull a sack onto his back and the strain on his face as he took the weight. A hundredweight is equal to 112lbs or 8 stone and, after delivering ten of those, anyone would be feeling somewhat weary! He must have been relieved when the last empty sack was folded and placed on his lorry. I remember his cheery voice as he knocked on the kitchen door to confirm all was done and to get his delivery note signed.
There are some very interesting historical photographs
here
, including a photograph of an old receipt for one ton of coal delivered in December, 1934, and costing just £1-2s-6d — £1 12½ pence in decimal coinage! Today, most house coal is delivered in small clean 25kg bags (about 55lbs) costing between £5.40 to £6.65 although, I believe, you can still get loose coal delivered in sacks.
---