Amazing Animals: The Camel
(No. 2 in my series)
Topic: Nature and Our World
I was quite young when I had my first encounter with a camel. My sister, Janine, had taken me to
London Zoo
and we spotted the 'Camel Ride' - I eagerly joined the long queue. Oh, yes, please... I want to wait, I told my sister. It was a huge creature, a Bactrian Camel with two humps, thick, long shaggy ruddy-brown hair and enormous feet. The 'seat' was one of those contraptions with two benches suspended laterally and seating several children on each side of the camel's humps. It was a very long wait but finally I got to the front of the queue, standing eagerly by the steps ready to climb up onto the bench seat. At last the camel returned and its passengers climbed down. I can still feel my trembling excitement when I was suddenly whisked up into the air by the Keeper and, because I was so small, placed not on the bench seat, but on the camel's neck! I could see where we were going; I could touch its hair. I was riding a camel!
Many years' later, when I was twenty-three, I visited the
Land of the Pharaohs
and had my second encounter with a camel - an Arabian camel, this time, with one hump. Its days were taken up patiently transporting countless tourists the short distance to that crumbling wonder of the ancient world,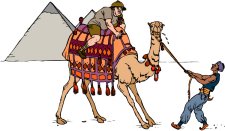 the
Great Pyramid of Khufu
(Greek name Cheops). Never having had much to do with horses, I took to riding the camel straight away. The camels are taught to kneel down, as it much easier to climb on. However, I knew that once up there, you had to be very careful when they got up! You see, they raise their back legs first and then, when they kneel down again, they go down on their front knees first so, I made sure I was leaning right back. (I did see one tourist fall off!) I also knew, probably from seeing that epic film, "
Lawrence of Arabia
", that you should hook your right foot behind your left knee - it certainly felt much more secure. The camel has a strange, rather pleasant, swaying gait when walking because its left front and back legs move together followed by its right front and back legs - no wonder it was called the 'ship of the desert'!
The two-humped Bactrian Camel (
Camelus bactrianus
)is found throughout Asia, mainly in Mongolia and in China. A very small number of protected wild herds still roam the grassy Steppes and the Gobi Desert. Their extra long hair protects them from the extremes of temperature and they have shorter legs and thicker bodies than the one-humped Arabian camel (
Camelus dromedarius
), which is found in the Middle East and in Africa. There are no wild herds of Arabian camels in North Africa as, when the animal was first domesticated some 5,000 years ago, their wild cousins died out.
And, yes, they are the most amazing of creatures; both types of camels are perfectly adapted to the desert environment. They carry a reserve of fat in their humps and can go for long periods without water, particularly if leafy plants are available. Although they are not true ruminants, their stomachs are divided into three sections and they swallow food whole then regurgitate it later to chew the cud. Camels don't pant and they perspire very little as they have a large body temperature range, which can fluctuate between 93?F (34?C) in the early hours of the morning to 105?F (41?C) or more by midday, without causing them distress. They just 'cool off' overnight when the desert temperature drops. This unique 'body thermostat' allows them to conserve body fluids and avoid unnecessary water loss. In addition, their kidneys can concentrate their urine, which can become as thick as syrup and twice as salty as seawater! They also extract fluid from their faeces and their pellets are so dry they can be used immediately for fuel.
Camels can go 5-7 days with little or no food and water and can easily lose a quarter of their body weight or more without suffering any consequences. Blood plasma volume is maintained as, when necessary, water stored in body fat and other tissues can be extracted. This lost water can be rapidly replaced and a large animal can drink as much as 100 litres/21 gallons of water, even brackish water, in ten minutes. This would cause severe problems in other animals, but the camel's unique metabolism enables it to store the water in its bloodstream. Camels are the only mammals with oval (instead of circular) red blood cells. This adaptation allows the red blood cells to continue to circulate if the blood thickens and to expand and not rupture when the camel takes in large quantities of water.
Some other physical characteristics which allow camels to survive so well in arid desert conditions include a double row of beautiful long eyelashes that protect their eyes from wind-blown sand; small ears lined with fine hairs, also to keep out sand; nostrils that can be closed; thick lips and 34 sharp teeth to eat coarse, thorny desert plants; and two-toed feet which have vestigial hoofs that look like nails and a broad calloused pad to walk on hot sand. And, I promise you, desert sand can get
very
hot indeed around midday,
never
step on it barefooted as I once did when I came out of a shrine carrying my sandals!
Certainly, without the camel, the desert peoples would never have flourished. They provide transport, shade, milk, meat, wool and hides - the
Bedouin
call it,
Ata Allah
, (God's gift). Camel milk is actually highly nutritious and lower in fat and lactose than milk from a dairy cow. The much-prized riding or racing camel, the equivalent of a pedigree racing horse, is called the Dromedary.
Camels live for up to 40 years and their gestation period is 13 months, so females only breed every two years. Calves weigh about 90 pounds at birth and take about five years to mature. All the Camelidae family evolved in North America, where they eventually became extinct approximately 12,000 years ago. However, before the ice ages, some of the early ancestral camels crossed the Alaskan land bridge (Bering Strait) to Asia and others the Panama land connection to South America. Therefore the Bactrian and Arabian camels are closely related to the
South American Llama and alpaca, vicuna and guanacos
. All the South American camelids can be interbred and selective breeding can greatly improve the quality of their wool. Likewise, the Dromedary and Bactrian camels are very similar to each other and can be
crossbred
to produce faster, stronger hybreds. All hybred offspring are fertile.
---