Sir Laurence Olivier (1907-1989)
Topic: Memories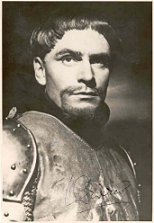 My late sister, Pauline, collected many autographs of famous actors, including at least ten signed photographs of the British actor,
Sir Laurence Olivier
, all of which she obtained personally. This photograph is of him in the part of Hotspur from Henry IV part I, probably taken in 1945, when he starred in this role on the London stage. Laurence Olivier seemed to slip naturally into every Shakespearean role he played and he brought the characters to life with an intensity which was, and still is, the envy of many other actors. As a young teenager, Pauline went to see virtually every Shakespeare play he appeared in at
The Old Vic
in London's West End. I don't think my father was very keen for her to go to the theatre so, a friend's mother aided and abetted her in a deception by 'inviting her for tea' so that her daughter and Pauline could attend matinee performances together without my father's knowledge. They would wait outside the stage door, whenever possible to collect autographs.
When she left school, and started working, (I remember her telling me that #5 per week was an excellent salary for a secretary in London, immediately after the war), Pauline had more freedom to indulge in theatre going. I think she had a bit of a 'crush' on Laurence Olivier at the time and she waited for him so often, he began to recognise her. I can remember her telling me that she had felt quite faint when he once placed his hand under her trembling hand to steady the page he was signing! He was aware of her reaction and had a huge grin on his face! I suppose you could say my sister was an original 'groupie'. At the time, I was much too young to join her on her trips to the theatre but I heard all about them. She told me of the occasion when 'Larry', great actor that he was, sat on a chair which suddenly collapsed. It wasn't meant to, she definitely knew it wasn't meant to, because it was the third time she had seen the play. But, to the rest of the audience, it passed virtually unnoticed as he took it all in his stride.
Often described as the 'greatest actor of the twentieth century', Laurence Olivier was born on the 22nd May 1907 at Dorking, in Surrey. He made some 14 films in the 1930s, including "Fire Over England", his first film with Vivien Leigh, whom he later married. However, I think that one of the best films from this era was, "Wuthering Heights", in which he starred as Heathcliff. Made in 1939, in black and white, of course, his burning portrayal of Heathcliff has made it into an ageless classic. I saw it much later on television and it remains one of my favourite films. He went on to star and direct in many more films right up to 1989. Those I definitely saw include "Henry V", which was originally released in 1944 as a 'propaganda' film, Richard III (1955), "The Prince and the Showgirl" (with Marilyn Monroe in 1957), Spartacus (with Kirk Douglas in 1960), Sleuth (with Michael Caine in 1972), Marathon Man (in 1976 - I think of Dustin Hoffman every time my dentist uses a drill!) and "A Bridge Too Far" (1977).
I finally got to see Laurence Olivier on the stage when I was fifteen or sixteen. He was starring in "The Entertainer" in Brighton. I remember I went straight from school dressed in my stuffy grey uniform and complete with satchel! I had a seat on the aisle. I was totally unprepared for the scene in which a nude model appeared on the stage. I remember feeling extremely embarrassed and I'm sure I went bright red. Certainly, I didn't dare look at the gentleman sitting on my left!
Laurence Olivier was knighted in 1947. In 1970, he was made "Baron Olivier of Brighton" for his services to the theatre, an honour which entitled him to a seat in the House of Lords. In 1981, Lord Olivier received the Order of Merit. He died on the 11th July 1989 in Steyning, West Sussex, where he lived with his third wife, Joan Plowright. He is buried in '
Poets' Corner
' in Westminster Abbey, the second actor to receive this honour, along with the 18th century Shakespearean actor, David Garrick.
---