Salvador Dali (1904-1989)
Topic: Music and Art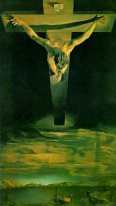 I don't know a great deal about art, but I do know when I like a picture. When I was twelve or so, I can remember buying a small print of this painting of the Crucifixion and hanging it over my bed. I don't think I knew who had painted it at the time or what it was called but it certainly caught my eye. Later, I learnt that it was the work of the Spanish painter,
Salvador Dali
. He called it "Christ of St John of the Cross" and it was painted in 1951 during his more classic period.
Salvador Felipe Jacinto Dali y Domenech was born on the 11th May 1904, in Figueras, Catalonia, Spain. He was really quite eccentric in his dress and appearance, with a big, swirling moustache. In his twenties, he became extremely interested in Sigmund Freud's ideas on subconscious imagery and learnt how to induce in himself a 'hallucinatory state' (a form of clinical paranoia!) in order to paint his bizarre dreamlike images. In 1929, he joined the Surrealist Movement but was eventually expelled from their ranks in 1937, when his paintings became more traditional in style.
Yes, I would call him a mad genius but he was truly a gifted artist with enormous talent and produced many brilliant works in his lifetime. He died on 23rd January 1989.
---