Vincent van Gogh
Topic: Anniversaries

Do you use
Google
(UK version) to search for information on the Internet? It is my favourite Search Engine and I set it as my home page a long time ago. They are very good at 'decorating' the letters of Google at special times of the year - like the Mars rover image which appeared in January 2004.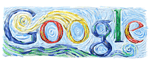 Nevertheless, I was surprised to find this image this morning. When I hovered my cursor over the picture, up popped 'Vincent Van Gogh'. It didn't take long to discover that the famous Dutch artist was born on this day, 30th March 1853, at Groot-Zundert. He was the son of the village vicar, Theodorus van Gogh, and his wife, Anne Cornelia Carbentus. A still-born child had been born exactly one year earlier and their new son received his name, Vincent Willen van Gogh.
Strangely enough, 30th March is also the date that a painting by Van Gogh, "Still Life: Vase with Fifteen Sunflowers", was sold at
Christie's
in 1987 for the small sum of #24.75 million (some $39,921,750!). This painting now hangs in the Seiji Togo Memorial Yasuda Kasai Museum in Tokyo. It has been the subject of much controversy (is it a fake?). Vincent van Gogh loved
sunflowers
and painted a lot of them in different arrangements - some ten or eleven different paintings! Sometimes, he even copied some of his original paintings as presents for friends. He did one of his Sunflowers as a gift for Paul Gauguin, another famous artist.
Van Gogh
is famous for cutting off his ear. He suffered from manic depression and schizophrenia and possibly epilepsy. He finally shot himself and died two days later on 29th July 1890. I find it very sad that the penniless Vincent van Gogh often had to give away some of his paintings in exchange for food or a new canvas - paintings which now sell for millions. Apparently, he only sold one painting in his lifetime. It is a strange world.
---