Mr Snowman!
Topic: Grandchildren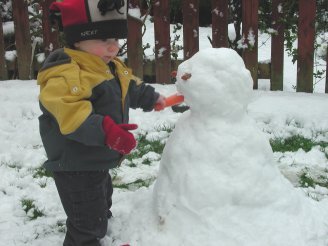 My son, who lives in London, emailed me this lovely photograph of Andrew meeting Mr Snowman in their back garden a few days ago! Andrew, who is fourteen months old, seems to be very interested in Mr Snowman's nose! I bet he was thinking, "Ah, I like carrots!"
The picture reminded me of this silly verse:
Let It Snow
I made myself a snowball,
As perfect as could be,
I thought I'd keep it as a pet,
And let it sleep with me.
I made it some pajamas,
And a pillow for its head,
Then last night it ran away,
But first - it wet the bed.
I wonder what Andrew thought of the snow? They seem to have had quite a lot in London. Down in our part of the world, we have seen a few snow flakes but, apart from an 'icing crust' on top of the car one day last week, nothing has settled for more than an hour or so!
---