That Tooth Fairy Again
Topic: Grandchildren

Poor Elliot! My daughter and the twins all went to see the Dentist on Monday for their check-ups. Monday evening, I received a fancy email missive from my daughter cataloguing Elliot's toothy problems. She explained that, Paul, (the Dentist) had been worried about one of Elliot's new teeth, which wasn't coming through properly. He took an x-ray and discovered that Elliot had a supernumerary tooth which was blocking the proper tooth from coming through. Paul said that it needed to come out as soon as possible and that Elliot would have to come back in a couple of weeks or go to the hospital. At this point, Elliot spoke up and said that he wanted Paul to do it - so Paul gave him the option of coming back or doing it there and then. Courageous little Elliot (he is six and a half) opted for NOW. He was very, very brave and had to suffer two injections - one in the roof of his mouth, which made him yell out. Out came the tooth after a bit of a struggle! At bedtime, the tooth, safely in a special Tooth Fairy envelope, was put by Elliot's bed for the Tooth Fairy to collect. Apparently, Paul had also given him 50p in another tooth fairy envelope for being so plucky!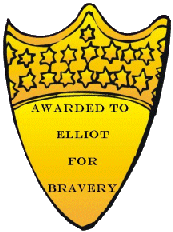 I thought that all this bravery deserved something special! So, Tuesday morning, I put on my Tooth Fairy crown (pun, intended!), found some lovely clipart at clipart.com and got to work. Phew! Not very good at making email stationery. Had two attempts at stripping two different stationeries and putting my backgrounds and pictures in before I got more or less what I wanted. Took me ages but the Bravery Shield had a nice `blur' effect, which I was pleased with. Funny, when you write HTML on a web page, you put <br /> for a line return. On stationery, it seems you have to put <div> &nbsp;</div> or it doesn't work. (divs force a line return and &nbsp; is a space). Finally sent the email off mid afternoon
Telephoned Elliot later on to find out how he was and if his gum was still sore. He told me the Tooth Fairy had left him ONE POUND for his tooth! He also said he had dribbled some blood onto his pillow during the night but he didn't seem to be upset about his experience or put off from going to the dentist. He even thought to ask me if I had got my tooth fixed after my filling came out last Thursday. "Love you - see you on Thursday" - bless his little soul.
Much later in the evening, I received a reply to the Tooth Fairy:
Dear Tooth Fairy, thank you for the letter. The dentist took a photo of my mouth and saw that there was a tooth in the way so he pulled it out. One of the injections hurt lots. Thank you for my bravery award. Thank you for my #1. Love from Elliotxxxxxxxxxxxxxxxxxxxxxxxxxxxxxxxxxxxxxx
Well, as usual, this Tooth Fairy is up very late but feeling very contented. I am so lucky to have such lovely grandchildren!
---