Palm Trees and Parrots
Topic: In the News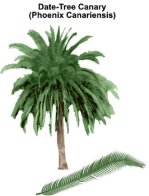 Apparently, Christian churches are amongst the largest consumers of palm trees, especially on Palm Sunday. Palm fronds, usually from the Date Palm, are handed out to every member of the congregation to commemorate the triumphant entrance of Jesus riding on the back of a donkey, into Jerusalem. So, I was surprised to come across this news item last night,
Palm Sunday Pact for Parrot
about an initiative in Columbia.

Apparently, there are only 540 or so yellow-eared parrots alive in the world today and they all live in the Colombian mountain forests. This is where the world's tallest palm tree, the
Wax Palm
, (Columbia's national tree) grows. For centuries, Colombians have used the fronds of the wax palm for Palm Sunday. However, when fronds are cut off young wax palms, they die or their growth is seriously stunted. The practice has led to a dramatic thinning of the towering palms, which in turn, affects the poor parrot living amongst them.
So, in a special ceremony in Bogota, a priest has blessed thousands of palm seedlings of the Alexandra palm - one of the alternatives to the wax palm. These will be planted for future Palm Sundays and, hopefully, this initiative will save the wax palm and the yellow-eared parrot from disappearing from the planet.
I knew about date palms, coconut palms and ornamental palms but I had never heard of the wax palm or the Alexandrian palm before, so it made me wonder how many varieties of palm trees there were. Would you believe that there are between 210-236 genera comprising some 2,000 to 2,500 species of palm trees?
Also, I thought palms were mainly tropical plants growing in desert oases or on sandy beaches on coral atolls. So, I was surprised to discover that the great majority grow in gloomy rainforests and perhaps never see the sun, certainly the young plants don't! Apparently, there are many species thriving a long way from the tropics, which actually prefer cool climates, and will happily thrive outdoors in temperature areas such as the United Kingdom. (So, you don't need a conservatory or a greenhouse after all!)
It seems that palm trees, which first evolved during the late Cretaceous period about 85 million years ago, must be one of the most successful and wide-ranging trees on the planet.
---