Joan Miro
Topic: Music and Art
Joan Miro , the Spanish Surrealist painter, was born in Montroig, near Barcelona, (the capital of
Catalonia
), on 20th April 1893. Incidentally, the letter 'J', called 'jota' in Spanish, (vocalised as hota), has a hard sound, so his name is pronounced
hoan mro
, an alternative spelling of the more common Spanish name, Juan, (English equivalent: John), and not 'Joan', as in Joan of Arc or Joan Crawford!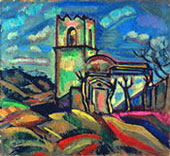 In his early years, his work was more conventional - I particularly like his picture of the Chapel of Sant Joan d'Horta, an oil on canvas painted in 1917. In 1921, he settled in Paris and his work gradually became more surrealist. By 1930, he had perfected his own style using a limited range of bright colours, especially, blue, red, yellow, green and black, often in abstract blobs of colour with spots and lines - simple forms with a definite childlike quality. He also created etchings and lithographs, worked in watercolour, pastel and collage, and produced some notable ceramic sculptures, such as the two large murals,
Wall of the Moon
and
Wall of the Sun
, for the UNESCO building in Paris.
After the Spanish Civil War, he returned to Spain. In 1956, he moved to Palma de Majorca, where he died on 25th December 1983, at the age of 90. His villa is now transformed into the Miro Museum. If you visit Barcelona, there is a large ceramic Miro mural on the outside wall of Terminal B at the airport. Other examples of his art can be seen in the
Miro Foundation
in Barcelona and all around the city, as well as in many other museums around the world.
---