A Dying World?
Topic: Nature and Our World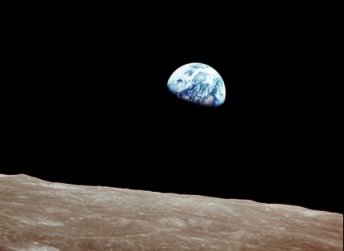 Earthrise from Moon Orbit
Today is "Earth Day". So, perhaps it is my mood which led me to choose the poem by Alfred Lord Tennyson,"All Things will Die".
We hear that so many life forms are about to become extinct. Did you know that some 1,130 species of mammals and 1,183 species of birds are likely to disappear within the next thirty years? And what about the animals and plants in the rain forests which will be destroyed before we have had a chance to discover and catalogue them?
Scientists from London?s Natural History Museum, the Zoological Society of London and Nottingham University are working together to build a
Frozen Ark
in which they are storing tissue samples from endangered species. Perhaps scientists of the future will be able to 're-create' a lost species.
But at the same time, we hear that
Antarctic glaciers
are melting at an unprecedented rate and that, if this is not halted, sea levels will gradually begin to rise. The Arctic ice is also shrinking and, eventually, the flow of cold, fresh meltwater could switch off the
Gulf Stream
and create a new ice-age in Europe. All a probable result of global warming caused by greenhouse gas emissions, which are on the increase due to world-wide pollution. In addition, we cut down the world's forests, we overfish the oceans, destroy the sea floor with trawl nets and pollute the seas with poisonous chemicals. Dead seas, no trees, no oxygen.
What sort of world will our great-grand children inherit? Will there be enough land above sea level to live on? Will there be any life left in the sea? Will our rich bio-diversity have been lost for ever?
Perhaps I am being too melodramatic? But, this generation must learn to take care of our Earth - after all, it is the only one we have and it is our children's inheritance that we are slowly destroying.
All Things will Die



Clearly the blue river chimes in its flowing

Under my eye;
Warmly and broadly the south winds are blowing

Over the sky.
One after another the white clouds are fleeting;
Every heart this May morning in joyance is beating

Full merrily;
Yet all things must die.
The stream will cease to flow;
The wind will cease to blow;
The clouds will cease to fleet;
The heart will cease to beat;
For all things must die.
All things must die.
Spring will come never more.
O, vanity!
Death waits at the door.
See! our friends are all forsaking
The wine and the merrymaking.
We are call?d-we must go.
Laid low, very low,
In the dark we must lie.
The merry glees are still;
The voice of the bird
Shall no more be heard,
Nor the wind on the hill.
O, misery!
Hark! death is calling
While I speak to ye,
The jaw is falling,
The red cheek paling,
The strong limbs failing;
Ice with the warm blood mixing;
The eyeballs fixing.
Nine times goes the passing bell:
Ye merry souls, farewell.
The old earth
Had a birth,
As all men know,
Long ago.
And the old earth must die.
So let the warm winds range,
And the blue wave beat the shore;
For even and morn
Ye will never see
Thro? eternity.
All things were born.
Ye will come never more,
For all things must die.





by Alfred Lord Tennyson
---