Andre Previn
Topic: Music and Art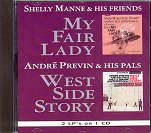 Andre Previn
was born in Berlin on 6th April 1929. As a child he studied at the Berlin Royal Conservatory and the Paris Conservatory before his family emigated to the United States in 1939 - just in time to escape Hitler's persecution of the Jews. Andre Previn is one of the World's most versatile musicians, an award-winning composer of film scores, orchestral and chamber music, a conductor and a jazz pianist. He has tried his hand at everything. This has been, I think, his greatest fault.
He could have been a modern-day Mozart if he had concentrated on composing classical music. Like Mozart, he was a child prodigy. He studied composition in California and whilst still at school started working on musical scores for Hollywood films. In 1958, he did the scores for
Gigi
followed by
Porgy and Bess
,
Irma La Douce
and
My Fair Lady
.
He could have been one of the greatest jazz musicians ever - if he had stuck to playing jazz. He first became interested in jazz after hearing
Art Tatum
,
Bud Powell
and
Charlie Parker
. His 1957 album of
My Fair Lady
with
Shelly Manne
became a best seller. Many people do not realise that nearly all the great jazz pianists were trained in the classics before graduating to jazz. Had Mozart been alive today, I am sure he would have been utterly fascinated by jazz music, which often involves 'impromptu composition' around the melody being played. In a jazz group, this 'impromtu composition' is often bounced back and forth amongst the players. The late bassist,
Ray Brown
, with whom Previn recorded
Jazz at the Musikverein
, was a grand master of this art.
However, Previn could not choose between his love of jazz and his love of the classics. He turned back to the classical world and worked with many world-famous orchestras including ten years with the London Symphoney Orchestra and eight years with the Pittsburg Symphony Orchestra.
In 1995, he returned briefly to jazz when he recorded his concert at The Musikverein, in Vienna. In 1998, his first opera,
A Streetcar Named Desire
, premiered in San Francisco.
Without doubt, he is a genius, a giant in the world of music. But, from my point of view, I will always think of him as a great jazz pianist.
---