Oliver Goldsmith (1728-1774)
Topic: Poetry and Poets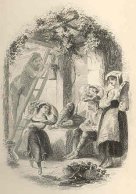 I have a lovely little book on The Poetical and Prose Works of Oliver Goldsmith with Life. Published by Gall and Inglis of 6 George Street, Edinburgh, it has 'Eight Engravings on Steel' and is leather bound with gold decoration. No date but probably circa 1860.
I had been puzzled by the conflict in the published dates for the birth of Oliver Goldmith but this book explains why. According to the flysheet of his father's family bible, "Oliver Goldsmith was born at Pallas, November ye 10th 17__." The last two figures having been lost with the margin of the leaf; but, from other sources, he is known to have been born in
1728
. Apparently, even the monument erected to him in Westminster Abbey, bearing a Latin inscription from Dr. Samuel Johnson, got it wrong.
Oliver Goldsmith's works include "The Vicar of Wakefield", "She Stoops to Conquer" and "The Good Natured Man". He wrote many poems and also penned numerous essays. His friends included Dr. Samuel Johnson, Sir Joshua Reynolds and Edmund Burke.
Here is an extract from his poem, "The Traveller", first published at the 'close of 1764'. It established his reputation as a poet.
Eternal blessings crown my earliest friend,
And round his dwelling guardian saints attend!
Blest be that spot, where cheerful guests retire
To pause from toil, and trim their evening fire;
Blest that abode, where want and pain repair,
And every stranger finds a ready chair;
Blest be those feasts with simple plenty crown'd,
Where all the ruddy family around
Laugh at the jests or pranks that never fail,
Or sigh with pity at some mournful tale;
Or press the bashful stranger to his food,
And learn the luxury of doing good.
[extract: second verse]
Oliver Goldsmith died in London from a fever in the 'forty-sixth year of his age' on 4th April 1774.
---