The Song
"Little Grey Home In The West"
A WW I Postcard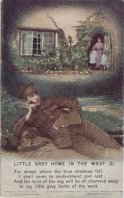 [
View Full Size
]
Here are the Lyrics for the song my aunt, Marthe Janssen-Leyder, would sing or hum (we're not sure which) during the war when she walked through the woods near her home town of Eisden in Belgium. Perhaps she hoped that any aircrew who had managed to parachute down safely from their stricken aeroplanes and had taken refuge in the forest, would hear the (in those days) familiar tune (or the English words, if she sang them) and would come out of hiding so that she could help them.
Or, and I think this is much more likely, the Resistance hid individuals or small groups of evaders in the woods until they could be found a 'residence', or prior to moving them on down the escape lines, and this song was the signal that a friend was approaching. Certainly, the Resistance in Eisden had a secret underground 'gallery' somewhere [see Marthe's story about 'The Traitor'] and they would have had to be very careful due to the number of German soldiers billeted in the area.
My sister, Janine, has also suggested that perhaps aircrew were briefed in advance that this tune would be used as a signal by the Belgian Secret Army. If so, it would have been used by each and every Brigade of 'Geheim Leger' (Secret Army) and not exclusively by our aunt. Can anyone shed any light on this matter for us?
Certainly, the tune was of some significance as it was played during the special Memorial Service held in the Church of St Willibrord, Eisden, immediately prior to the unveiling and blessing ceremony for the Commemorative Plaque set into the wall of Marthe's house.
LITTLE GREY HOME IN THE WEST
When the golden sun sinks in the hills
And the toil of a long day is o'er
Though the road may be long, in the lilt of a song
I forget I was weary before
Far ahead, where the blue shadows fall
I shall come to contentment and rest
And the toils of the day will be all charmed away
In my little grey home of the west
There are hands that will welcome me in
There are lips I am burning to kiss
There are two eyes that shine just because they are mine
And a thousand things other men miss
It's a corner of heaven itself
Though it's only a tumble-down nest
But with love brooding there, why no place can compare
With my little grey home in the west
---


For a printable copy of the SHEET MUSIC, please click HERE. Please be patient as the images will take approximately 143 seconds to load over a 28.8 kbps network connection. Please note also that, you will have to use your BACK button to return to this page (if I put a link on the page, it would print on the music sheet).

N.B. - the copyright has expired on this music.



"Little Grey Home in the West" was written in 1911 by Hermann Frederic Löhr and D. Eardley-Wilmot. I originally found an old phonograph recording dating from 1914 of Charles Harrison singing this song on The Antique Phonograph Hour with MAC. To listen, click on "Hear This Show". (The song is near the end of the programme - move the sound box arrow along the dotted line to speed up the process.)

N.B. You will need a RealAudio Player.
To download a Free RealPlayer: Follow This Link

8th October 2004: I have just found another recording made in 1912 by the Australian baritone Peter Dawson. You can hear this one on First World War.Com - Vintage Media.

The song was featured in the 1938 film "Sweethearts", starring Jeanette MacDonald and Nelson Eddy. The Irish tenor, Josef Lock also recorded it on the CD "Hear my Song; Josef Locke in concert"; Harmac: HMCD 5 (a re-issue of "The Songs I love so well") recorded live at the Braimor Rooms, Churchtown, Dublin, in 1985, and it also appears on his CD "Irish Favorites". Recently, Delta Music have issued a Josef Locke CD, "Danny Boy", (cd no. 21284) under their LaserLight Celtic label, a lovely collection of Irish melodies, including "Little Grey Home In The West".

Other artists who have recorded this song are Frances Langford on "Serenade"; Richard Tauber on "My Love for You"; Robert White on "Bird Songs at Eventide"; Paddy Reilly on "Celtic Collections"; Joe McPartland on "Over the Dim Blue Hills"; Frank Patterson on "I Can Almost See Ireland from Here". Many thanks to Joe Dolan for informing me that the great Irish tenor, John McCormack, also recorded the song for Victor records in New York on 6th April 1914. Joe has the recording as part of a box set (purchase price 61 pence!) issued by Pearl in the 1980's entitled: "The Voice That Calls Across the Years".

[If anyone could produce a MIDI version of this music for me, I would be delighted!]




---
In November 2003, Jean Bruce sent me a World War One parody of Little Grey Home In the West which was amongst the belongings of John Bruce, a Canadian soldier serving in the 29th Vancouver Battalion and an elder brother of her father-in-law. John had written several pieces of poetry and it was believed that he had written this one too. I found "Little Wet Home In A Trench" so interesting and touching that I immediately wanted to include it on this website as it gave a poignant glimpse of what the men in the trenches suffered. I was extremely grateful to Jean for permission to do so.
At the end of September 2004, I came across a web site called "Representative Poetry Online" and discovered that this work was first written by Tom Skeyhill, an Australian regimental signaller, who fought at Gallipoli from 25th April to 8th May 1915, when a shell explosion blinded him. It was published in 1915 in Soldier Songs From Anzac. It seems that John Bruce had simply written down a slightly different version which was more relevant to his war in Flanders. Shortly after, I discovered yet another version, short and even more graphic, credited to John Lucy. See what you think.
"Little Wet Home In A Trench"

---
If you followed the link for these Lyrics on the
Tribute - "Family Memories" page,
click on the arrow to return to the
paragraph you were reading

Copyright © 2001-2005 Tessa Steer (Leyder) / Van Hecke Family - All Rights Reserved Worldwise