"Little Wet Home In A Trench"
A First World War Parody on the Song
Little Grey Home In the West
Please read my
Correction Page
regarding the original version of this poem
which was written by Tom Skeyhill, an ANZAC soldier, in April 1915.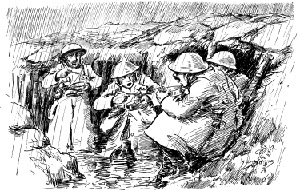 In My Little Wet Home in a Trench
In my little wet home in a trench
Where rainstorms continually drench
The sky overhead, clay and mud for a bed
And a stone that we use for a bench
Bully beef and hard biscuits we chew
It seems years since we tasted a stew
Shells, they crackle and scare
But no place can compare
With my little wet home in a trench
Our friends in that trench cross the way
Seem to know that we're here to stay
They shoot and they shout
But they can't get us out
Tho' there's no dirty tricky they won't play
They rushed us a few nights ago
But we don't like intruders you know
Some departed quite sore
Others left evermore
Near my little wet home in a trench
So hurrah for the mud and the clay
Which leads to Der Tag thats the say
When we enter Berlin
That city of sin
And make the fat Berliner pay.
Yes we'll think of the cold slush and stench
As we fought with the Belgians and French
There'll be shed then I fear
Redder stuff than a tear
For my little wet home in a trench
Many thanks to Jean Bruce for bringing this 'poem' to my attention in the first place.
---

A Canadian Soldier
John Bruce's story is very interesting. He was born in the United States, in Cedar Rapids, Iowa, in 1891 but, when he was a teenager, he moved to British Columbia, Canada. In 1914, at the start of World War One, he enlisted in the Canadian Army and served in the 29th Vancouver Battalion, known as "Tobin's Tigers" (after their Commander Lieutenant-Colonel Henry Seymour Tobin, DSO). This Infantry Battalion was part of the "The Iron Sixth Brigade" in the 2nd Canadian Division - I believe they joined the 1st Canadian Division in France in September 1915.
The 2nd Canadian Division, who would have fought under the old Canadian Flag above, was involved in the third battle of Ypres, also known as the Passchendaele campaign. The offensive proved disastrous as prolonged rainfall and heavy Allied bombing transformed the ground into a muddy swamp full of shell holes filled with water. In addition, the Germans, from their concrete pillboxes, took a heavy toll of Allied troops with mustard gas and machine-gun fire. The offensive was halted when Canadian infantrymen captured the ruined village of Passchendaele on 10th November 1917.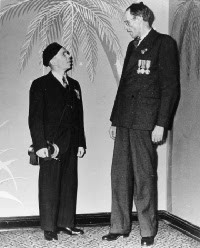 Life in the trenches, terrible at the best of times, must have been more difficult for John Bruce than for most as he was the tallest man in the Canadian Army - six feet nine and a half inches! John came back, but was never well afterwards, as he had been gassed. The photograph on the left was taken by Lloyd Turner for The Vancouver Daily Province and originally appeared in the newspaper on 3rd March 1941. It shows John Bruce with his friend, Billy Nevard (five foot four), at a reunion meeting of veterans of "Tobins's Tigers".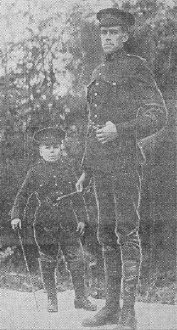 Billy, known as "Johnny Bull", had joined up as a 'diminutive bugler boy' and, seeing this photograph, one of the newspaper's readers, C.M. Heron, sent in an earlier picture taken in 1915, which subsequently appeared in the newspaper on 15th March 1941. He mentioned that, (for some reason!), both men were among the most photographed members of Canada's first Great War army.
Despite the terrible privations of war in the trenches, and as these alternative song lyrics prove, the soldiers of the First World War managed to maintain their sanity and sense of humour. The original version of Little Grey Home In The West was written in 1911 and would have been a well known tune during the Great War.
---



Here is another short version of "Little Wet Home In A Trench". I found it on the internet on a student resources website on The Great War. There was no way of contacting the webmaster and, in the absence of any notice to the contrary, I have presumed that this version is in the public domain. I have not been able to find any reference to 'John Lucy' anywhere else.

A Little Wet Home In A Trench

by John Lucy

I've a little wet home in a trench,
Where the rainstorms continually drench,
There's a dead cow close by
With her feet in towards the sky
And she gives off a terrible stench.
Underneath, in the place of a floor,
There's a mass of wet mud and some straw,
But with shells dropping there,
There's no place to compare,
With my little wet home in the trench.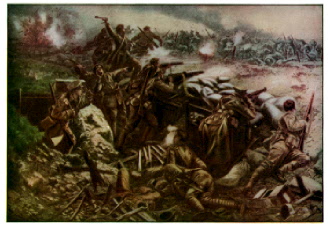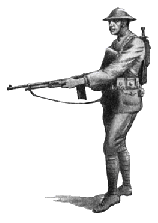 ---
Don't Miss On My Personal Pages
My Dad's Description of the Aftermath of WW1
A Postcard my Father sent home from Langemarck in Flanders
on the 19th October 1919 and two poems by John McCrae
"In Flanders Field" and "Disarmament".

Little Grey Home In The West
Tom Skeyhill, Australian Poet

Copyright © 2003-2005 Tessa Steer / Jean Bruce - All Rights Reserved Worldwide