An Article from a
Belgian Newspaper
"In Memory of a Courageous Belgian Lady"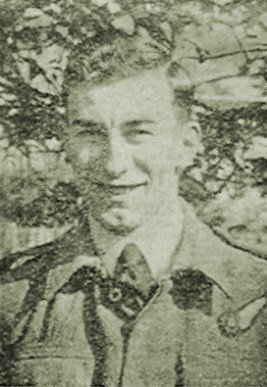 Below is a photocopy of an article about the Belgian war heroine, Marthe Janssen-Leyder, which appeared in a Belgian Newspaper on Tuesday, 31st October 1950. Alongside is a translation from the original Flemish into English.
This article is particularly interesting as it contains a photograph (enlarged on the right) of one of the British Airmen shot down over occupied Belgium who made it safely back to England with the help of the Belgian Resistance. The shape of the half wing on his jacket indicates that he was in RAF Bomber Command but it is very difficult to make out the detail in the centre of the badge as the quality of the newspaper picture is poor. Different letters or emblems were used to identity occupations - three examples are shown below.
Air Gunner
Bomb Aimer
Navigator



Well, the marvellous news is that I have discovered who this young airman is! The breakthrough came when I was advised how to obtain a copy of my aunt's "award file", held in the United States Archives in Washington DC. This is the "Questionnaire for Helpers" which was completed for all those who had assisted allied evaders, and who had themselves survived the war, shortly after the end of hostilities in Europe. This small document provided me with the names of two RAF evaders, Albert John Keveren and Douglas Jennings, and one USAAF evader, Charles Haupt, who were passed along the escape line by my aunt in the summer of 1944. I was able to track down a Douglas Jennings and got in touch. Yes, he remembered my aunt and, as much to his amazement as to mine, he proved to be the same handsome young man in the photograph above! Doug was an Air Bomber, so it is a 'B' on his half-wing. Don't miss reading his story.
Thank you Doug and Iris for welcoming us to your home and thank you Doug for the gift of your unpublished manuscript of your wartime memories.
A very big thank you also to all the people, especially Michael LeBlanc, who have given me much help and advice on how to trace allied evaders helped by my aunt.
Straight to Next Page – Douglas Jennings' Story

---



In Memory

of

a

Courageous Belgian Lady




Martha JANSSEN-LEYDER

OF EISDEN




Martha Janssen-Leyder

Recently, on the occasion of the centenary festivities of the Parish of Eisden, many interested people gathered in front of a spacious private house in the Dorpstraat

[main or high street]

. With silent respect, they looked up at the words engraved upon a memorial stone set within the wall of the family house which read: A.S.

[Armée Secrète]

- G.L.

[Geheim Leger]

— Here dwelt our faithful and courageous member, Martha Janssen-Leyder, "Whoever dies in Battle, conquers glory and silences death".

[see Note 1]

Because the resistance in Limburg is being disparaged by certain press and, more importantly, to set an example to young people who are being influenced by the scepticism of the press, we hereby want to remember with pride Martha Janssen-Leyder, an archetype of many other heroines of the armed resistance.

Four years ago on 16th Nov 1946 when most of her friends were still in the dark about her death, the news agency Reuter

[Reuters]

transmitted the following message to the world:

Croydon (England) 16 Nov 1946 (Reuters) - A wreath of Flemish poppies which was donated by the British Ministry of Aviation and bore the inscription : "The many to whom you gave succour and assistance, salute you, dear lady", was placed on the coffin of Mrs Martha Janssen-Leyder, a Belgian woman from the resistance whose funeral took place in Croydon. Known to British soldiers as "Madame Janssens"

["Johnson"]

, she risked her life on many occasions to help allied pilots and soldiers return to England.

To the members of the 59th Brigade of G.L. Eisden,

[N.B. Geheim Leger means Secret Army]

, Mrs Janssens-Leyder was not just a sister-in-arms but also a mother and mentor. She never hesitated to carry out any job for the resistance whatever its nature and throughout displayed an amazing courage.

One day she was in the company of resistance men in the area of Maaseik. There she encountered a young British pilot

[see Note 2]

, barely 17 years old. He was exhausted physically and mentally, broken by the suffering caused on the way to escape the German barbarians. He wept and begged Mrs Janssens to help him.

"Young man" she said, "No tears, they don't befit a soldier, no matter how young you are. Show yourself worthy and brave, then we will help you get back to your mother".

Another day, when an American pilot parachuted down in a nearby field, she did not manage to save him.

[See Marte's story about Billie Boxton]

A traitor in uniform pointed his revolver at Mrs Janssen's chest and threatened to shoot her but, enraged, she said: "You wavering, quivering coward!" The traitor cast his eyes down in defeat and was pushed away from her by the surrounding people.

When she did succeed in her efforts, her joy knew no bounds and people in the know would see American or English pilots, usually in simple village clothes and carrying full fishing gear, walking or cycling as they followed Mrs. Janssen from a safe distance as she led them to a safer place. Escaped Russian prisoners of war were brought to safety by her in the same manner.

One of many soldiers

[See large picture and my comments above]

who saw their fatherland again because of her.

If the ground in Eisden got too hot under her feet because of traitors and members of the Gestapo, constantly lurking in the background, she would go to Antwerp, where her son-in-law, H. Van Heck, a Deputy Attorney for the King, would extricate her from the inquisitive attentions of the manhunters.

On the 10th November 1946, she was at a get-together of English Officers in Croydon, England, at the house of Major C V Biddlecombe who, at that time, was a Staff Officer with the Antwerp Air Defence. She was taken ill in the middle of the meeting

[See Note 3]

and, despite the strenuous efforts of Croydon's premier medical service, was pronounced dead on arrival at the hospital. She was 46 years old.

Two months after the poignant funeral in Croydon, the 59th Brigade of G.L. Eisden, unveiled the beautiful granite memorial stone on 18th January 1947, of which the patriotic inhabitants of Eisden are rightly proud. In a time of betrayal and oppression such as the world had never seen before, people stood up who were prepared to sacrifice all so that you could live in a land of peace and prosperity.

Remember!




NOTES
The literal translation of this quotation from William Shakespeare is: "Who dies fighting, wins fame and kills death". However, I prefer the translation my sister put in our family album some years ago. Shakespeare's words have undoubtedly been altered in the original translation from late sixteenth century English to Dutch or Flemish. The likely origin is Henry V, Act III, Scene II: "And sword and shield in bloody field doth win immortal fame". [See: Commemorative Plaque - Page Three]
I believe that this poor lad was too young to have been a pilot - it is more likely that he was a gunner.
The Flemish article actually says she had a "heart attack". However, the cause of death on the death certificate is shown as a "cerebral haemorrhage due to essential hypertension", (a stroke).
---

Croydon Times Article
Douglas Jennings' Story


Copyright © 2003-2005 Tessa Steer / Douglas Jennings - All Rights Reserved Worldwide