A Tribute to a
Belgian War Heroine
Marthe E. Janssen-Leyder
"Family Memories"
As I grew up, I heard stories of Tante Marthe's exploits from my parents and my sisters. But, it wasn't until I was much older, that I came to realise what an extraordinary person she had been...
Me, by our front door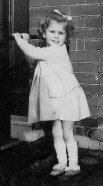 I heard how Tante Marthe used to carry secret messages hidden in her underclothes and how, once, she was stopped and body searched in the street by a young German soldier. As a child, I was wide eyed to learn that she had escaped discovery and certain arrest on this occasion because she had had the nerve to look the soldier in the eye and shame him by telling him in perfect German that what he was doing was not very gentlemanly! The official language of Flanders is Dutch (although the region is rich in Flemish dialects). However, the vast majority of Flemings are multilingual, English, French and German being widely spoken, and Marthe was no exception.
My parents also told me about the time Tante Marthe had delayed German soldiers about to search her home with friendly small talk so that allied airmen concealed in the house had time to climb out of a window and hide in one of the two wells in her large garden.
I asked, "How did Tante Marthe manage to rescue so many people?" ... "Well, whenever allied aeroplanes passed over occupied countries on bombing raids to Germany, they were shot at from the ground and unfortunately some 'planes were hit and all the people inside had to jump out with their parachutes." ... "Did the 'Boche' (Germans) catch them?" ... "Well, sometimes; but our Lancaster Bombers flew at night so some airmen managed to parachute down safely under cover of darkness and evade capture." ... "How did Tante Marthe find them?" ... "Well, many were found by other brave people who guided them to safe places where others could help them. Some of the airmen may have landed in the forest, or have been hidden there by others because there were too many Germans around the village." ... "What happended to the airmen?" ... "Tante Marthe would take long walks through the woods and, as a signal to anyone there, she would sing an English tune so the poor men knew it was safe to come out of hiding. She would bring them food, ordinary clothes and make false papers for them and then arrange to take them somewhere more comfortable." ... My sister, Marie-Claire, tells me that this 'signal song' was called "Little Grey Home in the West" from the 1938 Film, "Sweethearts", starring Jeanette MacDonald and Nelson Eddy. [Click here for the Lyrics]
Then my sister, Maud, told me about the time Tante Marthe was given the task of delivering a suitcase A Paraset Suitcase Transceiver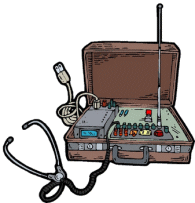 containing a radio transmitter or transceiver. She explaned that Tante Marthe had to travel some distance by train and got on with this case and another one of her own. When the train stopped at another station on the way, it was boarded by the Gestapo, who regulary carried out random searches amongst the passengers. Sure enough, she was ordered to open one of her cases. However, giving one of her sweetest smiles, she dared to point to the case with the transmitter and diffidently asked (again in perfect German), "This one?". Predictably, the German growled back, "No - the other one."; and so once again she escaped discovery.
My Mother, Marthe and my sister, Maud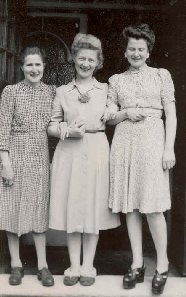 I also vividly recall my Mother telling me that, at one very difficult time, Marthe had asked her Resistance Group leader if she could stop what she was doing because she could not bear the strain any longer. She was told that she could ... but that he would have to shoot her if she did.
All this time, her family did not know (for their own safety) that she was working for the Belgian Resistance and I cannot imagine the constant worry and terror that she had to endure. It is a sobering thought to realise that, had the Gestapo discovered that she was actively helping the Allies, she and her whole family could have been tortured and deported to a concentration camp never to be seen again.
When Marthe was fourteen, she came to England on holiday to visit her uncle, Charles Leyder, her half-brother, Marcel, and her half-sister, Suzanne. However, she stayed very much longer than planned because of the start of the Great War. My father (Marcel Leyder) was, therefore, particularly close to her and was deeply affected by her sudden death at the age of forty-six.
"Happier Times"
on holiday, August 1936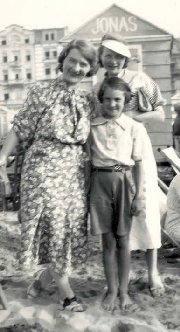 Marthe, Yvonne, my sister, Janine.
At heart, my father was very sentimental. He kept all sorts of documents in a folder including all the details of Marthe's funeral expenses (total cost £118.5s.0d!). But, most exciting of all were the transcripts of Marthe's memories of three incidents she was involved in during the war:- "How I met F/S Billie Boxton"; "The Escape of Four Russian Officers"; "A Traitor Amongst Us". My sister, Janine, is certain that she typed these herself on my father's old typewriter shortly before her death in November 1946. She stayed with us for at least a couple of days and would have been alone with my mother during the day. A precious legacy: the stories are vivid, her English is excellent and it is her voice speaking to us from the past. I have not changed her words. Don't miss reading them... be warned, though, the story about the "Traitor" is quite chilling.
| | | |
| --- | --- | --- |
| Back to Tribute Page Two | | Forward to Floral Tributes |
Sunflower image at top of page courtesy of
The Santalady
Clipart image of paraset suitcase transceiver © 2004
ClipArt.com
Copyright © 2001-2005 Tessa Steer (Leyder) / Van Hecke Family - All Rights Reserved Worldwide