| | | |
| --- | --- | --- |
| « | Belgian Flag | » |
The Commemorative Plaque
Description of the Plaque
The Plaque itself is very interesting and an enlargement is reproduced below. Note the detail in the inverted triangle at the top - once you know what it represents it becomes clear. This shows the Lion Head symbol used by the Belgian Secret Army and a badge was typically worn on armbands. To see an example in colour, click on the triangle link lower down.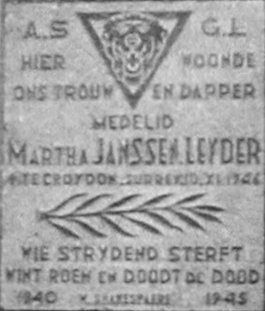 On either side of the Lion Head symbol,
the Plaque is inscribed with the initials for the Secret Army
- in French (Armée Secrète) and in Flemish (Geheim Leger) -

Click Inverted Triangle
A.S

G.L
to learn more
[and the words (translated from Flemish)]
HERE DWELT OUR FAITHFUL AND COURAGEOUS MEMBER
MARTHA
JANSSEN-LEYDER
† at Croydon - Surrey 10.11.1946
[An olive branch - the universal sign for peace and goodwill]
"WHOEVER DIES IN BATTLE
CONQUERS GLORY AND SILENCES DEATH"
1940 W. Shakespeare 1945

The quotation from Shakespeare is difficult to trace. Shakespeare's plays and sonnets have been translated into many languages and, as a good translation conveys the meaning rather than the literal translation of every word, Shakespeare's original late sixteenth century English will have been lost. An alternative literal translation of the Flemish Shakespearean quotation on the Plaque is: "Who dies fighting, wins fame and kills death". The nearest match I can find is from "Henry V", Act III, Scene II (spoken by Pistol):
"Knocks go and come; God's vassals drop and die;
And sword and shield in bloody field
doth win immortal fame."
During World War II, this famous play was made into a film starring Laurence Olivier. Released in 1944, this marvellous screen adaptation was, without a doubt, a 'propaganda' film made at the moment that Britain and the Allied Forces were planning the Normandy Campaign. (These words appear at the start of the film: "To the commandoes and airborne troops of Great Britain, the spirit of whose ancestors it has been humbly attempted to recapture in some ensuing scenes, this film is dedicated"). The popular patriotism of the film was used as an uplifting force and, as the Allies advanced from the Normandy beaches to liberate France, (Montgomery's troops seized Antwerp in September of that year), this rousing film would have been more widely distributed and certainly dubbed for the inspiration of our European friends.
---
Listen to some Music:

N.B. Non Nobis Domine is based on the Psalm of David (Psalm 115). This begins with the words Non nobis, Domine--"Not to us, Lord, not to us, but to thy Name be glory". Originally heard on the soundtrack of Laurence Olivier's "Henry V" during the battle of Agincourt, [Act 4, scene 8]

"Do we all holy rites;
Let there be sung 'Non nobis' and 'Te Deum;'
The dead with charity enclosed in clay:
And then to Calais; and to England then:
Where ne'er from France arrived more happy men."
This version, by Patrick Doyle, is from the remake of the film.
---
MARTHE JANSSEN-LEYDER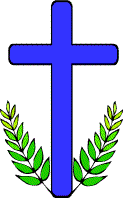 - NOUS N'OUBLIERONS JAMAIS -
- WE ZULLEN NOOIT VERGETEN -
---

The Plaque Unveiling Ceremony
Secret Army Badge and Insignia


Copyright © 2001-2005 Tessa Steer (Leyder) / Van Hecke Family - All Rights Reserved Worldwide