"The Snow Queen"
Now Playing: Little Children
Topic: Grandchildren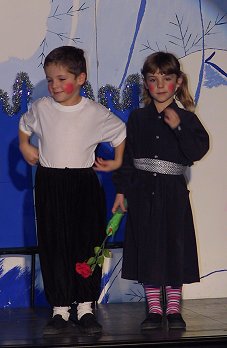 Last Monday afternoon we went to Aldingbourne County Primary School to see our grandchildren performing in the Infants' School play, "The Snow Queen". Stephanie had the star role as she was Gerda and Elliot played Gerda's brother, Kay. My daughter, Sarah, saved us some seats but the hall was already filling up when she arrived so we were back a little. She had made an effort to get there early but then so had everyone else!
All of the children had a part in the play, and they were all obviously enjoying themselves hugely performing for all the parents and grandparents who had come to see them! The teachers must have had to put in so much work to get everyone ready and all the children were absolutely fantastic. It was really heartwarming to watch. The costumes were superb, too - I particularly liked the little 'flowers'!
I thought the twins were incredibly good and my husband got a big tear in his eye (which rolled down his cheek) listening to Stephanie singing - he was so proud of her. Stephanie didn't falter with any of her lines and sang several songs all by herself. I certainly could never have done that when I was six years old!
I tried to take some photographs and Sarah tried to video the whole play but there were two rather large Dads in the two rows in front so it was a little difficult! Never mind. There were two more performances on Tuesday, one at 2pm (when my son-in-law, Adrian, took another video!) and one at 6pm. So my daughter and I went again to the evening show. Decided I would go really, really early this time and save her a seat! You guessed it..... so had lots of other doting mums, dads, grandpas and grandmas. Still, I did manage to get a seat on the aisle, so I had a much better view.
Stephanie had a little mishap - I saw her trip on the steps on the stage just when she was supposed to speak to the 'king' and 'queen'. She sat down for a moment and then carried on as if nothing had happened. I was a bit worried in case she had hurt herself. But, at the end of the play, the Headmistress asked her to stand up and told us that Stephanie had lost her shoe when she tripped and had stopped to put it back on and then had carried on like a real little trooper without batting an eyelid! Everyone applauded her and she looked really pleased.
There is something so uplifting watching little children putting on a show and seeing little faces light up when they spot you in the audience.
---