Proof In The Pudding - Another Alternative for Christmas
Topic: Recipes and Food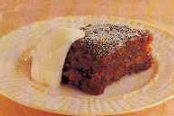 This recipe for Brandy Pudding is absolutely delicious! It has to be cooked ahead of serving time, which makes it an ideal pudding when you have visitors. You can prepare it in the morning or even a day in advance.
My recipe says it will give 12 portions but don't count on it! When I first tried it out, I thought I would halve the mixture for six people. Well, I went wrong somewhere and ended up making the full amount. I needn't have worried. Everyone came back for large second helpings and I was left with two very small portions for another day.
Cook it in a five-pint, 2-3 inches deep earthenware or Pyrex dish, which has to be slightly greased with butter. If you only have a smaller, deeper dish the cooking time will have to be extended. Left-overs reheat beautifully in the microwave.
Brandy Pudding
8oz (225g) stoneless dates, minced (or chopped)
1 level tsp bicarbonate of soda
½pt (300ml) boiling water
4oz (115g) soft butter
8oz (225g) soft brown sugar
2 medium-size fresh free-range eggs, beaten
5oz (140g) self-raising flour
4oz (115g) pecan nuts or walnuts, finely chopped
4oz (115g) glacé cherries or glaceé fruits, finely chopped
For the Soaking Sauce:
8oz (22g) soft brown sugar
¼pt (150ml) cold water
¼pt (150ml) cooking brandy
Pre-heat oven to 180C (350F, gas mark 4). Place the prepared dates in a jug and add the bicarbonate of soda and the boiling water. Cream the butter and sugar and, little by little, add the beaten eggs. Fold in the self-raising flour, nuts and cherries. Stir in the sloppy dates. Bake for 35 to 40 minutes but, before removing from the oven, test that it is cooked through - a small sharp knife gently pushed through the middle should come out clean and dry. In a saucepan over low heat, bring together the sauce ingredients. When the pudding comes out of the oven, pour the sauce over it and leave, covered, until cold. Before serving, warm the dish through for 15 minutes at 180C (350F, gas mark 4). Serve with whipped double cream to which some caster sugar and a touch of ground nutmeg have been added or with my favourite, Cornish ice cream.
---