Battle of Britain
Topic: Special Days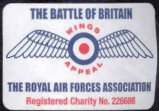 Today is Battle of Britain Sunday commemorating the heroic sacrifices made by so many young pilots of RAF Fighter Command who fought the German Luftwaffe in the air over London in 1940. In fact, the whole past week has been Battle of Britain Week and many of you will have noticed veterans and supporters out on our high streets collecting for the RAF Wings Appeal. This is one charity I am always keen to support because the
Battle of Britain
was the decisive turning point of the Second World War. It was the prelude to the planned German invasion of Great Britain and, if it had been lost, we would probably all be speaking German today! If you missed buying a sticker, you can still donate
here
using your credit/debit card.
As Sir Winston Churchill said, "
Never in the field of human conflict was so much owed, by so many to so few
", [extract from a speech made in the House of Commons on the afternoon of 20th August 1940].
The Battle of Britain actually lasted for almost four months in the summer of 1940. Known as "The Few", 2,936 pilots took part in this battle and 544 of them lost their lives.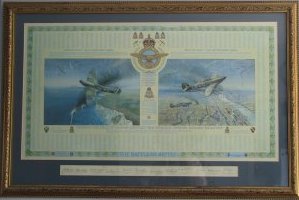 The Battle of Britain Diptych



'ADLERTAG' - 13TH AUGUST 1940

The Luftwaffe launched the 'Adlertag' attack with the intention of destroying all Fighter Command airfields south of a line from Chelmsford to Gloucester within four days. Vickers Supermarine Spitfires of Royal Auxiliary Air Force (West Riding) No. 609 Squadron, motto "Tally Ho", flying from their forward base at Warmwell, attacked a formation of JUNKERS 87B's at approximately 1600 hours. During this action Pilot Officer D.M. Crook, later to be awarded the Distinguished Flying Cross, shot down a MESSERSCHMIDT BF109 E-1 from 11/JG53 which formed a part of the escort for the STUKAS.

Only limited damage was done to the airfields of southern England despite the intensity of the attacks.






'BATTLE DAY' - 15TH SEPTEMBER 1940

Squadron Leader D.R.S. Bader D.S.O. led the Duxford 'wing' of two Spitfire and three Hurricane Squadrons against enemy bombers and their escorts over London. He had taken off with No. 242 Squadron from Coltishall following the scramble order given at 11:22 hours. The rest of the 'Wing' was made up of Nos. 310 (CZECH) and 302 (POLISH) Hurricane Squadrons plus No's 19 and 611 Spitfire Squadrons.

Squadron Leader Bader attacked a section of three DORNIER 17Z's with Pilot Officer N.N. CAMPBELL and Sub. Lt. R.J. CORK at approximately 1200 hours. The perspective of time has confirmed that this was the decisive day in the battle.
---
This morning, a new
Battle of Britain Monument
has been
unveiled
by Prince Charles. It is situated on the Victoria Embankment opposite the London Eye and consists of a walkway, approximately 25 metres long, lined with bronze reliefs and bronze plaques. Such a commemoration is long overdue so, if you live in London or are passing through, do go and have a look.
---