My Wishes for the New Year
Now Playing: Auld Lang Syne
Topic: Special Days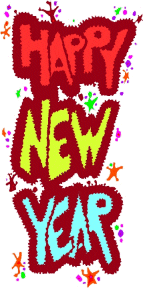 Health and happiness is my wish for you all for this New Year and a life full of friendship, kindness and good cheer.
I wish also for peace on this wartorn planet we call the Earth. Peace for Palestine and Israel, peace for Iraq, peace for Sudan, peace for Afghanistan - all places where so many lives have been destroyed in recent months.
This little poem by Robert Brewster Beattie says it all! You may have heard it before but the words are timeless and reach out to all humanity.
A Way to a Happy New Year

To leave the old with a burst of song,
To recall the right and forgive the wrong;
To forget the things that bind you fast
to the vain regrets of the year that's past;
To have the strength to let go your hold
of the not worth while of the days grown old,
To dare go forth with a purpose true,
to the unknown task of the year that's new;
To help your brother along the road
to do his work and lift his load;
To add your gift to the world's good cheer,
is to have and to give a Happy New Year!
---