Armistice Day
Topic: Anniversaries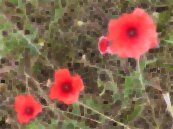 "They shall grow not old, as we that are left grow old:
Age shall not weary them, nor the years condemn.
At the going down of the sun and in the morning
We will remember them."



....... Fourth stanza of 'For the Fallen' by Laurence Binyon (1869-1943)
Did you know that today, the anniversary of Armistice Day on 11th November 1918, is a public holiday in Belgium? They always hold a Service of Remembrance in Ypres and a special Last Post ceremony at The Menin Gate Memorial. Belgium has never forgotten the sacrifices made by so many young soldiers - some of them just boys who pretended they were older. Now on Remembrance Sunday, the nearest Sunday to the 11th November, we honour and remember the dead of all wars and conflicts.
Did you know that an American Lady called Moina Bell Michael, from Georgia, was the person responsible for the poppy emblem? She was inspired by John McCrae's poem "In Flanders Fields" - especially the last verse, "To you from failing hands we throw the Torch; be yours to hold it high. If ye break faith with us who die, we shall not sleep, though poppies grow in Flanders Fields." She made a personal pledge to 'keep the faith' and always wear a red poppy of Flanders Fields as a sign of remembrance.
In the United Kingdom, we hold a two minute silence at 11 am - the eleventh hour of the eleventh day of the eleventh month. Sadly, not everyone remembers or cares. I can recall a time shortly after the end of World War II when everybody did care. I was in the car with my Dad, I think we were in the Finchley Road going towards Golders Green. ALL the cars came to a standstill - ALL the drivers and passengers got out and stood to attention, stiff and silent, for two minutes. Not a sound could be heard anywhere in London. It made a huge impression on me.
Do you wear a poppy?
---