My Mum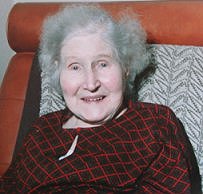 My Friend

Germaine
My mother, Germaine Lebel, was born in Pantin, a suburb of Paris, on 25th November 1897. She was an only child and had a very happy childhood. Although my grandparents, Jules and Delphine Lebel, (see picture) were not very well off, nothing was too good for their daughter and Germaine had the very best of everything.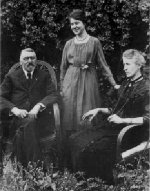 However, she was not at all spoilt by all this attention. She helped at the village Sunday School and, when the Great War started, she knitted countless hats and mittens to send to the soldiers in the trenches. Her religion was very important to her and, in her diary on Saturday, 26 June 1915, Germaine asks God: "to give me the grace to live like a true Christian and to follow your example". Her prayer was answered a hundredfold. I am biased but I believe that my mother was an extraordinary human being.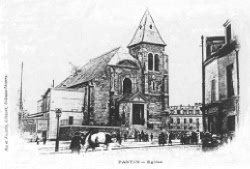 The Church at Pantin, c. 1902
After my father, Marcel Leyder, married my mother in Pantin in 1920, she came over to England with him to start her married life in Hornsey, North London. In those days, my parents thought that one day they would go back to live in France and so my mother returned to her parents' home in Pantin for the birth of my eldest sister in 1921. My father was a Luxembourger and, under French law, it was necessary for the baby to be born in France to ensure that he or she would be able to claim full French nationality. A difficult time for an enforced separation. Then, three days after the birth, my grandmother, Delphine, writes to Marcel, who was due to arrive at the weekend, to tell him that Germaine had developed a very high fever during the night and was not at all well.
This illness was indeed a terrible disaster for my mother and for the family as the local midwife had passed on Puerperal Fever, a Streptococcal infection once prevalent in women after childbirth (before the use of strict asepsis and cleanliness in delivery procedures). This was before the discovery of penicillin and modern antibiotics and, of the fourteen women the midwife had infected in Pantin, twelve died, one was paralysed and the fourteenth, my mother, after coming near death and receiving the last rites, eventually recovered after a terrible year of suffering.
At first, seven doctors attended her. They had more or less given up all hope: "Give her all the morphine she asks for". My father dismissed them and found two others, one a surgeon. As a last resort to try and save her life, he agreed to an amputation of her left leg. It worked... but not before she had around 32 operations needing chloroform. (This last bit of information was given to us by my mother's cousine, Odette. My mother never spoke of it.)
During all this time, Marcel visited every weekend from England and wrote about seventy letters to Germaine. He also rigged up pulleys so that Marie-Claire's Second Birthday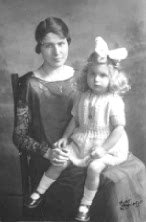 7th August 1923 she could exercise her right leg. Because of inactivity when the doctors thought she was dying, she was left with ankylosis of the left hip and left wrist. Despite all this and pain from her phantom limb, she never lost her courage and strength of mind. She was determined to regain her vigour and to bring up her family herself and went on to have four more children, two in Hornsey and two in Finchley - I was born in December 1941, the youngest of her five daughters. In later life, my mother never spoke a great deal about her ordeal except to say how much she had dreaded the visit of the doctors, who made her move her leg in order to drain the infection from her knee, and the enormous relief she had felt after the amputation.
I think I was three and a half years old in this picture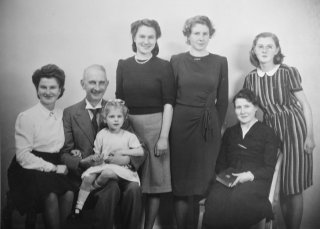 Maud, Me on my Father's lap, Janine, Marie-Claire, my Mother and Pauline
In her last few years, my mother suffered a great deal from arthritis and spondylitis. However, she never dwelt on her misfortunes and I never heard her complain or grumble. She made every effort to keep cheerful and she always had a smile and a kind word for everyone. Eventually, she became bedridden and completely dependent on my late sister, Pauline, (sitting next to Mum in the photo below), who looked after her with compassion and love. Pauline also did not complain about her deteriorating health and the worst thing I ever had to do was to tell my mother that Pauline was never coming back home after she was rushed to hospital following a stroke. She was 57 years old when she died on the evening of 3rd February 1989.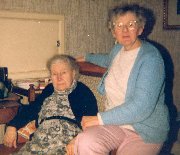 Mum with Pauline
My mother got progressively weaker but never lost her spirit nor her concern for others. We all took turns to look after her although the biggest share of the responsibility fell to my sister, Janine. My sister, Maud, was with her when she died peacefully in her sleep on 17th July 1990 aged 92.
I know many people will think me stupid but, at her funeral, I had an extremely vivid sense of Mum's presence with my sister, Pauline. They were laughing and she was happy and I felt a very strong sense of her love as she came to bless each of her surviving children in turn. She is greatly missed.
---
Copyright © 2001-2005 Tessa Steer - All Rights Reserved Worldwide