My Dad...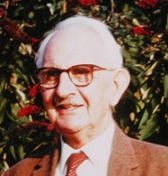 Marthe's Brother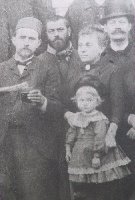 Click
here
to see full photo
My father, Marcel Leyder, who died aged 93 in 1982, had a particularly traumatic childhood. My grandparents were Luxembourgers living in Clichy, a village just north west of Paris, France, where my father was born in 1889. His father opened a "wine bar" there in 1891, an event recorded for posterity! The small picture on the right was cropped from this photograph and shows my father, aged about two years and four months, with his parents. Marcel was the eldest of their five children but, sadly, his mother (Anna Reis*) died on the 1st July 1896, when he was just seven years old - Anna was only thirty years old and had been ill since the birth of her last child.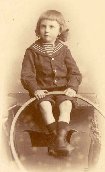 My father aged seven
Unfortunately, it was impossible for my grandfather, François, to earn a living and cope with five young children on his own so his mother and brothers came to the rescue and the family was split up. The two youngest children, George (3 years old) and his baby sister Suzanne (21 months old), went to their grandmother, Elizabeth Beiches*, in Luxembourg, and Paul (5 years 8 months) and Charles (4½ years old) went to their uncles, Paul and Victor (both single at the time), also resident in Luxembourg. My father went to live with another uncle, Charles (a teacher) and his English wife Elizabeth (Lizzie) Field who, at that time, were living in Pantin, a suburb of Paris. Much later, they also took in his sister, Suzanne, when she was ten years old.
Eventually, my grandfather remarried a widow with two daughters and had three more daughters, Emilienne, Marthe and Jeanne. Because the older children were now settled and well looked after, they stayed where they were. However, despite being separated, a great deal was done to keep the family together and the three half-sisters in particular were very close to their older brothers and sister.
When he was about twelve years old my father spent some time living in England with his uncle and aunt and attended an English School but the family soon returned to Pantin. After the death in 1904 of his father, Nicholas, his uncle and aunt (always spoken of as "Papa et Mamam Leyder"), adopted Marcel and his sister Suzanne. When he finished his studies, my father got a job with the French textile firm Dormeuil Frères and started work at their London Branch in 1909. Around this time, his uncle had decided to move permanently to England and bought a house in Hornsey, North London, where my father came to live with his adopted parents and his sister. (Papa Leyder was now involved in the textile industry and later also taught at the Lycée Français in London). In 1914, his half-sister, Marthe, (aged 14), came over for a visit and ended up staying for four years because of World War One.
In 1916 my father officially reclaimed his Luxembourger nationality. I believe he had tried to enlist in the French Army at the start of World War One but was refused as, although he was born in France, his parents were not French nationals. Just as well, as had he joined the French Army, it is almost certain that I, my sisters and all our children and grandchildren, would never have been born. (I don't know if French law is still the same but, at that time, you did not have full citizenship unless you were born in France and at least one parent was French). Apparently, my father did consider joining the French Foreign Legion but, thank God, was dissuaded by Papa Leyder.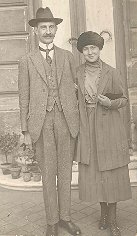 After the Civil Wedding
In 1920 my father went back to Pantin to marry my mother, Germaine Lebel, and they started their married life living with Papa Leyder in Hornsey. It was some years before my father could afford to buy his own house in Finchley, where we all grew up (my mother's serious illness in 1921-2 had cost a huge amount of money). When the war ended, my father left Dormeuil Frères and worked as a commercial traveller representing textile firms. He had taught himself German and Spanish and regularly travelled all over the continent. In 1947, he and my mother applied for and were granted British Nationality.
My Dad worked very hard all his life to support his family and he continued working in the textile business until he was seventy-five, when he finally retired. His main hobbies were gardening, politics and the stock market, which he studied avidly (with some success!). He had a very large garden at Ferring and supplied my mother with huge quantities of fresh fruit and vegetables well into his eighties. He never forgot his own mother and I can still see the tears in his eyes and hear his faltering voice when he spoke of her.
---
* For English people reading this - please note that in Belgium and Luxembourg the wife keeps her maiden name, adding it to the name of her husband. That is why there are so many double-barrelled names. As I have Spanish relatives, (my sister, Maud, married a Spaniard), it is interesting to know that in Spain everyone has two surnames, their father's, which is the "family name", followed by their mother's maiden name and, when a girl marries, her husband's family name which is added on with a "de".
---
If you have come straight to this page, follow the link back to my Home Page to read about my Aunt Marthe. She was a member of the Belgian Secret Army during World War II and is one of Belgium's many War Heroines.

Copyright © 2001-2005 Tessa Steer - All Rights Reserved Worldwide