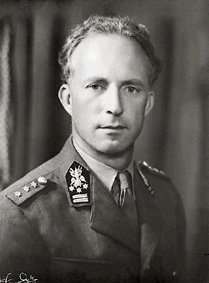 Leopold III King of the Belgians
(1901-1983)
It is apparent that King Leopold III, a human being with faults and failings like all of us, suffered a number of unfortunate and sad events in his life. Although he was accused of high treason by the Belgian people, he was later exonerated but, it appears, not forgiven in his lifetime. This is what I have learnt about him.
Born on the 3rd November 1901, Leopold III succeeded as King of the Belgians in 1934 following the sudden and premature death of his father, King Albert 1, in a rock climbing accident. Leopold was married to Princess Astrid of Sweden in 1926 and they had three children, Josephine-Charlotte (born 1927), Baudouin (born 1930) and Albert (born 1934). Sadly, in August 1935, Queen Astrid was killed in a car accident - Leopold was driving the car when it crashed. The Belgian people loved their beautiful Queen and blamed the King for his moment of inattention at the wheel.
In May 1940, Germany invaded Belgium without warning or ultimatum and, after the Belgian Army had suffered for 18 days, Leopold, against the advice of his cabinet, decided to surrender unconditionally to the Germans on 28th May. The French and British troops that had come to Belgium's aid initially had been overwhelmed by the superiority of the invading forces and by 26th May, the Allies were pushed into the narrow beachhead around Dunkerque. It seemed to the King that the cause was hopeless: there was no escape for his troops and he genuinely wished to spare his people further bloodshed. Indeed, the Flemish Belgians, particularly in the province of West Flanders (who were caught in the middle of the battle) were fully behind him but, unfortunately, his surrender incurred the vehement condemnation of the majority of the Belgian People and brought accusations of treason. Leopold's decision to capitulate would plague him for the rest of his life.
At the time, the Belgian government-in-exile refused to acknowledge defeat and declared the King's surrender "illegal and unconstitutional". By the 30th May, the ministers had voted to divest Leopold III of all powers and of the right to rule. Nevertheless, Leopold steadfastly refused to administer his country under German control and, as a result of his defiance, was imprisoned in his castle at Laken.
In November 1940, Leopold met Adolf Hitler in Berchtesgaden. He achieved the release of 50,000 Belgian prisoners of war and an improved food supply for occupied Belgium. However, the western Allies and many of his countrymen now regarded him as a collaborator.
In 1941, Leopold III secretly married again on 11th September. His second wife, Mary Liliane Baels, was a commoner and this was a morganatic marriage meaning that any offspring and their descendants could have no claim on the Belgian throne. The Belgian people learnt of this liaison following the civil marriage on 8th December 1941. Their reaction was anger and resentment that he had found happiness whilst they were suffering! (The press rebuked him: "Sire, we thought you had your face turned towards us in mourning. Instead you had it hidden in the shoulder of a woman."). Liliane, later created princess of Réthy, welcomed Leopold's children into her home, filling the gap left by the death of their mother, Queen Astrid. Three more children were born, a son, Alexander (1942), and two daughters, Marie-Christine (1951) and Marie-Esmeralda (1956).
After the Allied invasion in June 1944, Leopold was taken to Germany on the orders of Himmler. Followed by Princess Liliane and the royal children, the family was held in custody in a fort at Hirschstein an der Elbe in Saxony through the winter of 1944-45, and then at Strobl, near Salzburg, in Austria, before being liberated by American troops in May 1945. Much bitter opposition to his return existed in Belgium because of his wartime conduct. After the liberation of Belgium in 1944, the legislature elected Leopold's brother Prince Charles (1903-1983) as regent and Leopold and his family went into exile in Switzerland.
In 1946 a commission of inquiry exonerated Leopold of treason, but the controversy concerning his loyalty continued. A referendum held on 12th March 1950 favoured his return by an overall majority of 58% (the vote in Flanders was 77%) and he went home to Brussels on the 22nd July. However, he met such fierce hostility, manifested in strikes and other protests that, by the 1st August, he felt obliged to delegate his royal powers to his son, Crown Prince Baudouin. He finally abdicated in favour of his son on 16 July 1951, two months before Baudouin's twenty-first birthday. The childless King Baudouin I reigned until his death in 1993, when he was succeeded by his younger brother, the present King Albert II.
Ex-King Leopold III died in Brussels on 25th September 1983.
(My thanks to Daniel Wybo for providing additional information)