Andrew's First Birthday
Topic: Grandchildren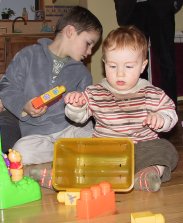 I can't believe that a whole year has passed since Andrew was born on 1st January 2004! I wonder if he will remember his first Christmas Day and his first Birthday? Andrew actually had two "birthdays", one on Saturday for his Mummy's side of the family and one on Sunday for our side of the family. This worked well as my son realised after the Christening in October that his house was really much too small to have all the relatives around together. We would have been restricted to a buffet meal instead of a lovely roast dinner and, at this time of the year, it is much too cold to spill out into the garden.
Well, I must say that I am amazed at Andrew's steady progress! I know I am a biased Grandparent, but he has been walking since he was ten months old and I don't think it will be long before he is talking. He already communicates very well by pointing at things and trying to say 'that' and claps his hands when he is pleased about something. He has been drinking from his cup since he was about 6 months old and can feed himself even if he is a bit messy! Shelley is a trained Nursery School Assistant and spends a lot of time helping him and encouraging him, so perhaps that is why he is doing so well. He loved tearing the wrapping paper off his presents and he recognises anything to do with Winnie the Pooh, Tigger and Eeyore. Not surprising because my son spent ages decorating the nursery a year ago and lovingly drew and painted these characters on the wall opposite Andrew's cot.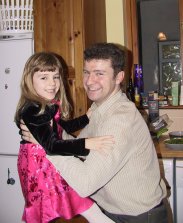 Poor David looked exhausted at the end of the day. Shelley is also suffering from chronic tiredness as Andrew still wakes up in the early hours so David helps as much as he can. He did a lot of the cooking with Shelley, loaded up the dishwasher and emptied it twice, washed up the glasses and saucepans, made the coffee and entertained his nephew and niece by rolling on the floor with them and tossing them up to the ceiling! I got tired just watching! He was also up until the early hours on Friday evening/Saturday morning finishing Andrew's birthday cake, beautifully decorated with a big picture of Tigger's face! (Are you reading this, you Husbands and Dads out there?) When David was about 16, I showed him how to sew on a button, boil an egg, peel potatoes and cook a simple meal. It paid off when he left university and lived in a rented room for a while. He bought a combination microwave/convection cooker and cooked all his meals. He even tried his hand at making lemon meringue pie!
Thankfully, I saw my son-in-law, Adrian, taking lots of photographs. I shall look forward to seeing them when the film is developed as my digital ones aren't very good! I always seem to do something silly like accidentally moving the camera setting (usually on auto) and getting blurred pictures because the shutter speed is too slow! Then I had to use David's electricity to finish charging the camera when we arrived as I discovered in the morning that I had managed to leave it switched on and the battery had drained! It seems that 'Geri' is my middle name (Geri Atric!)
---