A Little Bit of Garden
Topic: Poetry and Poets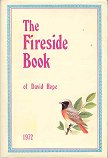 It's funny how you can discover things you didn't know you had! A couple of days ago, I was looking at the jumble of books on a book shelf, a double layer! I spied this little book hiding at the back and pulled it out. It was called
The Fireside Book of David Hope
, and it had a lovely little illustration of a bird on the cover - a European Redstart, I think.
No wonder I didn't recognise it. On the flyleaf was an inscription to my parents "... with love from Kitty, Christmas 1971". So, it was a present given to my parents by an old family friend, Kitty Whiting. Her husband, George, used to work at Dormeuil Freres with my father before the war. Kitty was very Welsh and, when my son was born, she insisted that 'David' was a Welsh name - never mind the Hebrew King David or the story of 'David and Goliath' in the Old Testament, all of which predates Welsh history by some 2,000 years or more!
Back to the book - I must have brought it over when we were clearing out the house and then I had put it away without looking. I sat down to read though it. It is full of poems by a variety of poets, with an illustration for each poem. Some of the poets,
John Betjeman
;
Walter de la Mare
;
Thomas Hardy
;
A. Conan Doyle
(did you know he wrote poetry? I certainly didn't!);
Alfred Lord Tennyson
and
R.L. Stevenson
, were familiar names. The other poets, around twenty of them, I had not heard of before. What a super little gem!
A poem entitled "
A Little Bit of Garden
" by
Will H. Ogilvie
caught my eye, it certainly fits the time of year and my mood. Weather permitting, I will be very busy over the next few days because the Royal Mail delivered two small boxes - my Busy Lizzie plug plants - 300 of them! That will take a while to pot on into trays. Still, it is a very economical way to buy them and, I must admit, I am a lazy gardener. Busy Lizzies (Impatiens) need no maintenance - no deadheading - and give a beautiful show of colour in the garden and in tubs. Last year, mine continued well into November.
Here is the poem:
A Little Bit of Garden

We need no crown or sceptre,
For, now that it is Spring,
Just a little bit of garden?
And every man's a king !

A little breadth of border,
A little patch of grass,
Above it all the April sky
Where soft the south winds pass.

A spade and rake for comrades,
The smell of rain-wet mould?
And every time we turn a clod
We turn a mint of gold !

A little bit of garden,
With daffodils a-swing,
And tulip-flowers whose crimson flags
Are only flown for Spring.

Shy blossoming primroses.
Forget-me-nots of blue,
And here a blade and there a blade
Of green things peeping through.

Who seeks for crown or sceptre
When every man's a king
Whose patch of cottage garden
Has felt the feet of Spring ?

by Will H. Ogilvie(1869-1963)
From "The Fireside Book" - A picture and a poem for every mood chosen by David Hope.
Printed and Published 1971 by D.C. Thomson & Co. Ltd., Dundee and London.
---