"ROLL OF HONOUR"
1940-1944
Members of the Belgian Resistance
From the Village of Eisden
Vic Charlier
Miner
Mezzini Demeyere
Miner
Dr Albert Dexters
Coal Mine Doctor
Survived the war
Subsequently served for many years as Mayor of Eisden
G H Dexters
Dr Albert Faleys
Coal Mine Doctor
Toon Gielen
Miner
Martha Janssen-Leyder
Wife of Musician, Renier Janssen
Survived the war but died 10th November 1946
Alfred Kerstens
Miner
Antoine Kessler
Miner
Albert Pareyn
Miner
and his wife Mevrouw (Mrs) Albert Pareyn-Coninx
Louis Philtjens
Male Nurse
Arrested by Gestapo during night of 28th/29th April 1944
Transported to Buchenwald and survived the war
and his wife and children
Jupp Pia
Miner
Betrayed September 1943.
Imprisoned in Breendonk, transported to Buchenwald
Survived and returned to Eisden as one of "living dead"
Lucien Schalenborgh
Mine Engineer
Arrested and transported to the camp of Halle an der Saale
Died in 1944 due to privation
Hubert Thiemann
Arrested by the Gestapo and shot on 14th April 1944
Stefan Wyszynski
Interpreter



These are a few of the many brave people who were collectively responsible for the rescue of a large number of British, American and Russian evaders. They hid them in their homes, fed them, clothed them, provided them with false papers, and escorted them along the escape lines. They constantly risked their lives in the service to others: some of them suffered greatly and some of them paid the ultimate price.
---
The commemorative plaque reproduced below shows an airman being helped by a girl and an older man, as another airman parachutes down nearby. It was designed by Elizabeth Lucas-Harrison for the Royal Air Forces Escaping Society and is in St Clement Danes RAF Church London; the RAF Museum, Hendon; the War Museums in Ottawa, Canada & Canberra, Australia; the Musée de l'Armée at the Hôtel des Invalides, Paris; the National Resistance Museum, Overloon, Netherlands; and the Basilica of the Sacred Heart, Koekelberg, Bruxelles, Belgium, where this picture was taken.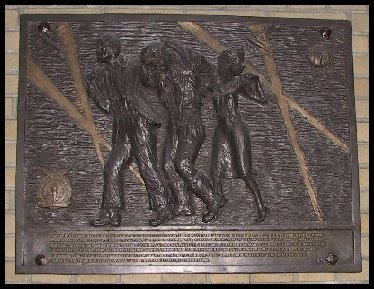 The Inscription reads:
"ON THE 21ST JUNE 1981 THIS PLAQUE WAS DEDICATED TO THE COUNTLESS BRAVE MEN AND WOMEN OF ENEMY OCCUPIED COUNTRIES WHO, DURING WORLD WAR TWO (1939-45) WITHOUT THOUGHT OF DANGER TO THEMSELVES, HELPED 2803 AIRCREW OF THE ROYAL AIR FORCE AND COMMONWEALTH AIR FORCES TO ESCAPE AND RETURN TO THIS COUNTRY AND SO CONTINUE THE STRUGGLE FOR FREEDOM. MANY PAID WITH THEIR LIVES, MANY MORE ENDURED THE DEGRADATION OF CONCENTRATION CAMPS. THEIR NAMES ARE REMEMBERED IN EQUAL HONOUR WITH THOSE WHO WERE SPARED TO FIGHT A LONGER BATTLE. TO MARK ITS DEBT OF GRATITUDE THE ROYAL AIR FORCES ESCAPING SOCIETY ERECTED THIS MEMORIAL AS A LASTING TRIBUTE AND ALSO TO SERVE AS AN INSPIRATION TO FUTURE GENERATIONS."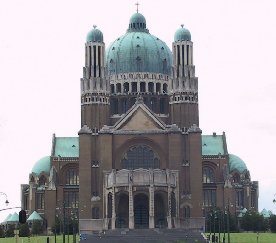 The Basilica of the Sacred Heart
Koekelberg, Brussels