Tessa's
"TÊTE-À-TÊTE"
A Sort of 'Blog'
Well, this gives me a chance to chat to my visitors, to tell you what I'm doing, to air my views and to have some grumbles! If you want to comment on anything, just send me an E-mail.
More 'Blogs'
[November/December 2004] [July/August 2004] [May/June 2004] [March/April 2004] [January/February 2004]
For Earliest Entry:
Go to Bottom of Page
Page Five - September to October 2004

Sunday, 31st October 2004
Halloween or All Hallows Eve, the time when witches, wherewolves, ghosts and ghouls are supposed to be about. Why do we frighten our children with these tales? Are they really frightened or is it all part of the magic of growning up? Certainly, it seems to be a more popular 'festival' these days than when I was a child. I don't remember doing anything special at all and I was far more frightened of the Bogie Man than of witches and ghosts. An excuse for parties and fun? Well, why not. Trick or treat? No - that is an American custom and, unless parents accompany their children and they only knock on friend's doors, it is, unfortunately, a potentially risky pastime for young children.
Halloween to me seems to be a dark night before the brightness of All Saints Day. Like this poem taken from "Selections From Modern Poets" made by J.C. Squire, [Published 1934 - London: Martin Secker Ltd.], hope you like it too:
THUNDERSTORMS
by W.H. Davies

My mind has thunderstorms,
That brood for heavy hours;
Until they rain me words,
My thoughts are drooping flowers
And sulking, silent birds.

Yet come, dark thunderstorms,
And brood your heavy hours;
For when you rain me words
My thoughts are dancing flowers
And joyful singing birds.
P.S. Last Tuesday, baby Andrew took his first two steps all by himself and then repeated his feat several times. He is just 9 months and 3 weeks old. Amazing! His Dad got it on video, which I am looking forward to seeing.

Monday, 25th October 2004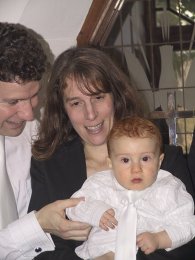 Well, the last week seems to have gone by in a flash! Sunday, 17th October, was a very special day for little Andrew and all the family when he was Christened at the Church of St Clements with St Peter. He seemed to be very interested in everything that was going on (especially the candles) and was very well behaved indeed. Everyone went back to my son's house for a buffet lunch. I was pleased that the Chocolate Cheesecake I brought seemed to go down very well with everyone - I had been a bit worried that it wouldn't arrive in one piece after our long drive up. Afterwards, it was fun watching the little children playing a form of musical envelopes. David was in charge of the music and tried hard to let each child get his or her chance to open an envelope - which wasn't easy as they were passing them around too quickly! I think one little person got more goes than she should have had! Then the grown-ups joined in with a whispering game - you had to pass a message round and then listen to what the last person heard. This reminded me of a story my father used to tell which he said happened during the war before messages could be sent by radio so, probably the Crimean War or the First World War. The Commander at the front sent a message back by runners to tell his superiors that "I am going to advance. Please send reinforcements". This was passed on several times before a young lad arrived at HQ saying that the Commander says, "I am going to a dance, please send three and fourpence". I know - you've probably all heard it before.
Tuesday, 19th October, I saw the doctor again. She had the result of my blood pressure readings. Explained to her that I had been up in the middle of the night for well over an hour, which probably was the reason for the readings not going down. I had been advised to put the machine under the pillow when I went to bed but, of course, I was waiting for it to take a reading. Perhaps I dozed off and missed one but eventually I started to think I had disconnected something. Put the torch on, which slightly disturbed hubby who turned over and started to snore! So, I went downstairs to have a look. Made a coffee. Switched on the computer and went on line searching for information on ambulatory blood pressure moniters. Eventually, I pressed something on the top of the machine and it took a reading at 3 am. Had a sandwich! It finally took another reading at 4 am so I went back to bed thinking that perhaps it was programmed to take readings less often during the night. Anyway, the doctor has put me on tablets. One diuretic in the morning and one Ramipril at night. From tomorrow, two Ramipril for another week, then three for a week, then four. The list of possible side effects is frightening. Still, I suppose it is better than a heart attack or a stroke.

Friday, 15th October 2004
I have been unsettled for a while. I discovered a major problem with one of my pages a couple of weeks ago, which I really must address. Wrote to the Editor of a large website for advice regarding copyright about ten days ago and no one has bothered to reply! In the meantime, I haven't been able to concentrate on working on the rest of the website. Had my hair done last Tuesday - the whole works, lowlights and all - amazing how that makes you feel better! Then I nearly lost the car today! Had to see the nurse this morning to collect a 24 hour blood pressure monitor. It takes a reading every 30 minutes but, as I wandered round the shops, I noticed that it would take a second reading after one minute if I didn't keep still. Of course, it chose to take a reading just as I arrived back home in the car. Turned into the drive and sat still. Went indoors and, yes, it took a second reading. About five minutes later, hubby looks out of the window and comments that the car "is very near the drive entrance and looks odd". Rushed back out - I had only forgotten to put on the handbrake and the car had rolled back down the drive and was halfway across the pavement! Thank goodness he noticed.

Friday, 8th October 2004
My free trial period for ZoneAlarm Pro ended yesterday. First thing I noticed during the trial was that the 'Valid HTML', Valid CSS' and 'Icra Label' links had all disappeared from my pages. That meant I could no longer do a quick check when I uploaded a revised page by clicking on the links. So I removed ZoneAlarm's Ad Blocking for "Banner/Skyscraper ads", which solved that problem but meant I had to put up with the odd pop-up ad appearing. Then I found I couldn't read the "Times OnLine" because it uses cookies so, I unchecked "Block Third Party Cookies". Maybe I could have put this site into Trusted Zones? Anyway, PestPatrol has a "Cookie Cruncher". The outcome is that I have decided to go back to the free version and put up with all the pop-up ads.

Tuesday, 5th October 2004
Found another useful web service today which allows authors to see what their pages look like (sort of) when viewed with a Lynx text-mode browser on this Lynx Viewer. They recommend that you should download a copy of Lynx itself and run it locally but this is the next best thing.

Thursday, 21st September 2004
I picked up two pests whilst reading the news on Google, 'Client Sniffer' and 'RedV', both sitting in Temporary Internet Files\Content.IE5. PestPatrol was running and found them almost immediately. If you are worried about removing pests or spyware and you want a free removal program, take a look at this webpage first: Rogue/Suspect Anti-Spyware Products & Web Sites. I update PestPatrol regularly but I had never checked to see if there was an update for ZoneAlarm. There was, so I downloaded it there and then. Decided to try the free trial for the Pro version - there is no obligation and I can go back to the free version if I want.

Thursday, 13th September 2004
Finally finished working on my updated personal pages and uploaded them today. About time - I had been working on them for ages! I knew I had to get rid of the night sky background and replace it with something lighter so that anyone with an older browser could read the black text. However, I have to battle this problem I have of always going for bright fussy backgrounds! Trying to stick to 'Eos' designs so I finally chose the same pale texture I am using here and on my Album and Family Tree pages for the table background. Do you think the orangey page background behind the table is too bright? (You can read the black text on it, though.) I did once get an email from someone thanking me for 'a beautiful site' but I suspect any professional designers would throw their hands up in horror and tell me to stick to plain white with a fluid design. Anyway, I think a bit of colour does no harm. I am trying hard to follow some of the accessibility guidelines but it seems I am a long way from achieving even Priority 1. Will keep trying (yes, I know, I am VERY trying!).

Thursday, 9th September 2004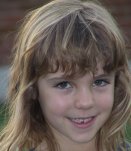 Stephanie asked me to take a photograph of her showing where her tooth came out! You might just see the gap. It is strange that Elliot lost his upper left tooth and Stephanie has lost her lower right tooth. She also has some new molars, which have come through rather early, I think. Both the children seem to be very happy to be back at school and they are always very keen to read their school books to us! They are doing very well and we are very proud of them.

Saturday, 4th September
Like everyone else in the world, I have been very shocked and upset by the terrible events in Beslan, Russia, this week. How can any human being be so evil and so wicked as to deliberately take the lives of innocent children? Absolutely nothing can excuse such callous brutality. What did they think it would achieve to hold a school to ramson and how did they envisage it ending? I know some terrible things have happened in Chechnya and that both sides have behaved badly and must share the blame. But, in the end, it is the ordinary people caught in the middle who suffer the most. Sadly it seems that terrorism is now a world wide plague - and I believe that the cure is dialogue. We must listen to these desperate people, try to understand their point of view and the politicians must find common ground to build on.

Thursday, 2nd September 2004

My daughter sent me an email last night and told me that Stephanie's loose tooth had finally come out. So, last night/this morning (past 2 am - time flies when you are engrossed in something!) I worked very hard on another email from the Tooth Fairy! Found a very nice picture (which I nicked, again - well, only using it for one email!). Addressed it to both the twins. It would have been fun to see them receiving their emails this afternoon but, as my son-in-law has been unwell and his workplace told him to stay home one more day, we are missing our weekly visit. Anyway, here are their replies received this evening:
Stephanie's Reply
Dear Tooth Fairy. This is Stephanie. Please can you tell me what you look like - is that you in the picture and is that me sleeping? Thank you for the money and thank you for the e-mail. How do you know what name we are or did we tell you in our other e-mail? I love your music, it is nice and pretty and I like your wings in the picture.

I thought it was going to be in there forever and it wouldn't come out but I couldn't eat any apples and I like apples and one time I went to McDonalds and once I saw a chocolate donut but then Mummy said you can have a packet of fruit with grapes or the donut and I said 'can I have the fruit and grapes'.

Where do I have to look to see the tooth?

Grandpa tried to get my tooth out but I wobbled it too much and it hurt and then when I ate one of my crisps it came loose and I said to Daddy 'my tooth needs to get out' then he tried to get it out with his quite big fingers and Elliot said 'try and get it out with a tissue' and then I got a tissue for Daddy and he tried the tissue and he got it out. Daddy got a cup with some water and he poured some salt in it and I had to swish it round my mouth and it tasted really really HORRRRRRRIBBBLE.

I have to go now as Elliot wants to say something and I know you are very busyxxxxxxxxxxxxxxxxxxxxxxxxxxxxxxxxxxxxxxxxxxxxxxxxxxxxxxxxxxxxxxxxxxxxxx
Elliot's Reply
Hello Elliot here. How are you? Thank you for my money when you came that Thursday. How much teeth have you got in the sky? Did you see our cat when you came? How do you sneak in without us seeing and how do you shut the door quietly when we are asleep? Is Stephanie's tooth better because she eats more fruit and vegetables and because she eats tomatoes. One day I ate a whole apple. Today we made some lego. What do you make. How much money do you have and how much money do you give us for our back teeth? Where is your computer or don't you have a computer?

I'll see you next time tooth fairy. I hope you e-mail back. I need to go to school tomorrow and I'm in year 2. I hope you have some nice sleep - do you sleep in the day? Now I need to go. I love you tooth fairy. Where is fairy land? Elliotxxxxxxxxxxxxxxxxxxxxxxxxxxxxxxxxxxxxxxxxxxxxxxxxxxxxxxxxxxxxxxxxxxxxxx
Been busy doing yet another reply! I think I have a job for life here. Mustn't forget to change my Outlook Express properties back to my name instead of 'Tooth Fairy'!

Wednesday, 1st September 2004
I found another very useful website, Usablenet.com, last Saturday. Their 'LIFT Online' trial will provide you with a free 5-page sample report on your website which stays on their server for five days. These reports evaluate your pages for accessibility and usability and provide loads of links to all the W3C guidelines. I have been busy making notes on all the comments. However, so many possible problems were thrown up (all my images and links, for instance) that I feel like the old woman who lived in a shoe! I still have not caught up with all the results from CSE HTML Validator. I had to really rush through the last few page checks before it disabled itself!

More 'Blogs'
[November/December 2004] [July/August 2004] [May/June 2004] [March/April 2004] [January/February 2004]