Tessa's
"TÊTE-À-TÊTE"
A Sort of 'Blog'
Still haven't taken the plunge to publish my blog! Still, with all the problems I have had, someone might benefit from what I have learnt. Will definitely publish something.
More 'Blogs'
[November/December 2004] [September/October 2004] [July/August 2004] [March/April 2004] [January/February 2004]
For Earliest Entry:
Go to Bottom of Page
Page Three - May to June 2004

Wednesday, 30th June 2004
I smile now every time the telephone rings! I was SO fed up with all the marketing calls we were getting. First it was junk mail, then spam emails, and then intrusive, time wasting telephone calls. It seemed like hundreds of them every week! I registered with the "Telephone Preference Service" but it takes a while and depends on business using their 'don't call' lists. I could have had 'caller display', but why should I have to pay to know that 98% of my calls are unsolicited marketing calls? Our old analogue answering maching had packed up about three months ago and I had not been able to find a replacement. So, I was using British Telecom's free answer service for when I was on line or out of the house. I even thought of buying a new telephone. Then last Saturday, when I was not even looking, there it was, a stand alone digital answering machine sitting on the supermarket shelf. It gives us great satisfaction to hear it saying, "Thank you for calling"!

Monday, 21st June 2004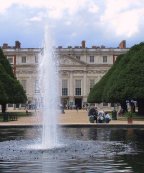 Yesterday was Father's Day - my son's first. We all decided to have a day out and meet at Hampton Court Palace in Surrey. The original palace belonged to Cardinal Thomas Wolsey, chief minister to Henry VIII, who lived in it for eleven years. He added hunting lodges for the King but eventually he was forced to hand the palace over to King Henry VIII in 1525. I went there as a child but the only real memory I had was of seeing the famous old grapevine. I went again when my children were around five and six with my sister - on that occasion we tried getting lost in the maze but didn't go into the Palace. (The maze was planted in 1690 and is 2 miles long, so you need plenty of time!) We had a lovely day together wandering round the gardens and the Palace, despite a drop of rain in the afternoon. We just managed to see everything and, because of Baby Andrew's pushchair, we were privileged to use the lift instead of climbing all the stairs to view Henry VIII's state apartments! Afterwards, we all visited my sister, who lives very near to Hampton Court.

Tuesday, 8th June 2004
Delighted with the free version of Zone Alarm, which my son suggested I get. Amazing to see how many access attempts are being blocked! Went to a site called Shields Up yesterday, which I had bookmarked ages ago. I remember failing all the tests miserably. Anyway, this time, the results stated:
"Your system has achieved a perfect "TruStealth" rating. Not a single packet solicited or otherwise was received from your system as a result of our security probing tests. Your system ignored and refused to reply to repeated Pings (ICMP Echo Requests). From the standpoint of the passing probes of any hacker, this machine does not exist on the Internet. Some questionable personal security systems expose their users by attempting to "counter-probe the prober", thus revealing themselves. But your system wisely remained silent in every way. Very nice."
Can't recommend it enough!

Sunday, 23rd May 2004
Been experiencing a problem or two with the new external drive/old drive. I had done a virus check as a precaution a while back. Decided to do a scan disk of E drive and lots of errors were found and some invisible files and folders were restored. Wish I had thought of doing that at the start - it would have saved me lots of time searching for copies of programs on the Internet, downloading a new Windows Media Player, etc., etc.! Pleased to get back all my fonts, games, screensavers and unzipped folders, which have all reappeared.

Monday, 17th May 2004
Solved the lack of colour in toolbars, scrollbars and 3d objects! First, I rediscovered how to customise the display properties then, eventually, it dawned on me that I had actually installed a 'Theme' some three years ago. I had completely forgotten about it and I feel particularly daft as I had carefully matched the Windows Media Player embedded in one of my old pages with that colour not realising that it was a 'local' colour scheme. Messed up my Encarta 2001. I had copied all the files over from the old external drive and stupidly deleted them. I must have left something behind though because, when I next wanted to use Encarta, the program reinstalled from the CD and the result is I have lost all of the updates I had downloaded.

Thursday, 6th May 2004
Gradually progressing with restoring my computer. Found my old wallpaper so my desktop looks more familiar but the old colour is missing from toolbars and scrollbars, which are now a horrible grey. Got my printer working again. Found all the folders on the old drive but the printer driver was missing - had to reinstall from the HP disk. Also reinstalled my scanner and Canon ZoomBrowser from disk. Thank goodness, all the folders with my photos were intact but the driver for the camera can't be found so, I can't download photos via the usb - good job I have a pc card adapter. I finally found the folder for my Outlook Express address book and copied that over. Also discovered that Microsoft Works had not been reinstalled so now my spell checker is working again as OE shares that dictionary. However, a lot of files are missing from the old drive - System32 folder is virtually empty. The Bowep folder is gone so most of my games have gone too and others are missing .dll files. I have recreated Bowep and have managed to find quite a few of the old games on the internet. Not that I play them very often! When I had my first computer, a reconditioned ex-office laptop with no modem, I did get quite addicted to JezzBall! Mainly because someone commandeered the machine before I had had it ten minutes, got a good score and (so I was told) commented, "She won't top that!" or words to that effect. (I did!). Anyway, now I like WordZap and card games best when I want to wind down, no time to spend several hours on JezzBall!

Saturday, 1st May 2004
Well, the worst happened and I crashed my computer on 18th April! I hope I never go through that experience again! NEVER try to replace user.exe with a different one! I now know that it is unique to each computer. Thankfully, I found an excellent local repair man at Black Cat PC Computer Solutions in Bognor Regis. He went to a lot of trouble to restore as much as possible. Thank goodness all my web pages are there as I didn't have a backup of some unpublished pages and my recent amendments! He also installed a much larger hard disk and put the old one into an external drive so that I could access what remained of my old files. So far, I have managed to restore MailWasher, Paint Shop Pro and PestPatrol, also reinstalled Internet Explorer 6. Can't seem to restore the emails for my separate identities but got some back for my main identity minus all the 'Rules' which have gone. My Address Book is missing too and the spell checker is not working. Just to complicate things, Freeserve (my ISP) has just changed its name to Wanadoo. Seem to have lost all my games, downloaded fonts and screen savers, Windows Media Player and my recently updated WinZip9. Hope I can find my registration code somewhere! Could be much worse.

More 'Blogs'
[November/December 2004] [September/October 2004] [July/August 2004] [March/April 2004] [January/February 2004]