Tessa's
"TÊTE-À-TÊTE"
A Sort of 'Blog'
Still haven't published this. It would give me a chance to chat to my visitors, to tell them what I'm doing, to air my views and to have some grumbles! Would people really be interested? That is the question!
More 'Blogs'
[November/December 2004] [September/October 2004] [July/August 2004] [May/June 2004] [January/February 2004]
For Earliest Entry:
Go to Bottom of Page
Page Two - March to April 2004

Saturday, 17 April 2004
Found another unwanted file today, 'VegasRed.exe', which had arrived on 5th April. Assume it is also part of my recent hijacking. Having trouble with a file called 'wapicc' which is 'not responding' every time I have a computer hang. Something to do with the dial-up connection box. Now getting very frustated when I try to work on my website pages on my computer. Whenever I try to click on 'Edit', 'Refresh' or 'x' to close the page, my cursor is jumping about uncontrollably and I have to resort to Ctr-Alt-Del. Ran a system file check and I have three files "which may be corrupted". user.exe, setupx.dll and Lfkodak.dll. Should be restored from installation disk but the instructions tell me to insert the disk, switch off computer and switch on again, which I can't do because my on/off button has been broken for ages. Found copies of the two .dll files on the internet, so have restored those.

Monday, 12th April
Well, I've learnt the hard way that having a virus checker is not enough protection! Discovered I had a 'Startpage' virus, various trojans and about 325 spyware and adware parasites. No wonder I kept running out of disk space. Various new unwanted files started appearing on my desktop [silent.exe, bs5-nt15v.exe, CS4PO28.exe, 0021-bd194126.exe, o.bat and 0]. Tried to manually delete these except for CS4P028.exe, which was 'in use'. Didn't take long for everthing to reappear. Then a 'WhenUSearch' toolbar installed itself. Finally managed to get rid of this via Add/Remove programs - but only after I had filled in a 'why are you deleting this program' form. Told them in no uncertain terms that 'it had installed without my agreement and with loads of parasites'! My son pointed me in the direction of a very good program called Pest Patrol.

Monday, 22nd March 2004

It was "Mother's Day" in England, yesterday. Went over to my daughter's for lunch and my son came down too. Of course, it was her day as well so the two generations of Mums had a double celebration with all the offspring. Shelley and baby Andrew went to visit her Mum - can't have everything! Had a lovely day and got a beautiful oasis of flowers. Really lucky to have two superb grown-up kids!

Sunday, 13th March 2004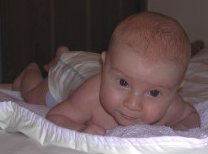 My son sent me this superb photograph of Andrew, yesterday. He now weighs 12lbs 5ozs and has caught a little cold! However, he seems to be a strong little chap. He can turn over from his front to his back and keeps trying to sit up! Still lots of disrupted nights for his Mum and Dad, who are being kept pretty busy! Very grateful to David for taking the time to keep viewing my draft home page and pass on his thoughts and opinions.

Thursday, 11th March 2004
What terrible events in Madrid this morning with nearly 200 people killed by the bombs left in commuter trains. My sister and her children and grandchildren live in Madrid, so I feel closer to the Spanish people in their grief. What on earth makes a human being become a terrorist? A war I can understand but to target people indiscrimately by blowing up anyone unfortunate enough to be in the wrong place at the wrong time seems to me to be the work of the Devil.

Wednesday, 10th March 2004
Hubby heard this on the radio today. Go to Google and type in 'Weapons of mass destruction'. Click on 'I'm Feeling Lucky'. Smile - You'll get a funny 404 error page! If you follow the links, don't spend too much money!

Monday, 1st March 2004
Finally managed to get back to working on my web pages last week. What with yet another horrible chesty cold in February, plus my back injury, I hadn't done any real work on my computer since 19th December 2003! Trying to redesign my front page in line with the suggestions from Practical Internet Web Designer magazine. Removing most of the distracting animations and trying to tone down the backgrounds! When I first started writing web pages, I used 'tables' as boxes to hold everything together and to keep images where I wanted them so I think I will have to keep those. Also, used <td>s to create double borders. However, trying to get rid of some of the 'tables' inside 'tables' and use more cascading style sheets. Gradually getting my head round more of the intricacies of css but my old brain is aching!

More 'Blogs'
[November/December 2004] [September/October 2004] [July/August 2004] [May/June 2004] [January/February 2004]